Maraga chides Tuju over Odunga, says he'll never ask judges to quit cases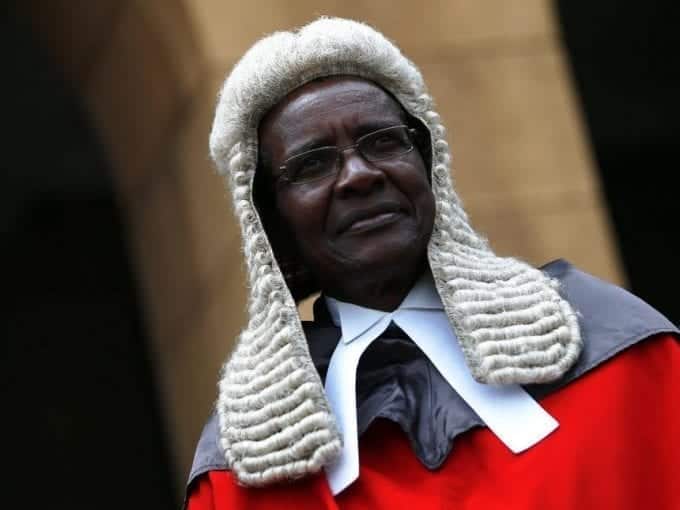 Chief Justice David Maraga has hit out at Jubilee for demanding that Justice George Odunga be removed from all August 8 election cases.
In a letter to Maraga, party secretary general Raphael Tuju notes "with concern" Odunga's relationship with NASA chief polls agent James Orengo.
"It was recently revealed that Justice Odunga is related to Siaya Senator James Orengo [yet] the judge has presided over numerous cases where Orengo is retained as advocate," Tuju said on Tuesday.
He goes on to cite cases Odunga has presided over in which lawyer Orengo represented the Opposition.
But Maraga said the Judicial Service Commission and the Judiciary will not be cowed by intimidation.
"We will, at no time, direct any judicial officer on how to decide any case before them or [tell the] to recuse themselves," he said during a press briefing on Wednesday.
The CJ said he will not ask judges to resign because of what politicians utter and added that all politicians should desist from attacking judges.
"The CJ cannot direct a judge or disqualify himself. The rules of recusal are clear."
Noting such attacks have climaxed and become bolder with time, the Chief Justice said they will not bow to Tuju's demands.
"We are alerted by the audacity of the party as it seeks to determine who hears the cases it files in court. The emerging culture of public lynching of judges must stop," he said.
"The chronology of attacks on judges is worrying. JSC remains steadfast in defending judges from unwarranted attacks."
Maraga added they will not get involved in alarming threats, intimidation and blackmail.
"Our judicial system has avenues for recourse should they be dissatisfied by the rulings we make."
Source link-the-star.co.ke