Why Senate Speaker Ekwe Ethuro had to go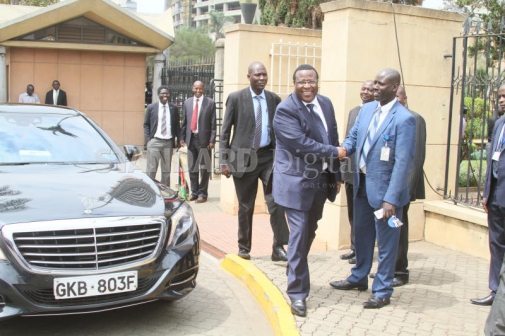 Jubilee Party's withdrawal of support for Ekwee Ethuro in the race for Senate speaker did not come as a surprise.
At a Jubilee Parliamentary Group meeting at State House Nairobi on Wednesday, President Uhuru Kenyatta and his deputy William Ruto whipped Jubilee legislators to vote for immediate former Bungoma Governor Kenneth Lusaka.
It was a clear message that Mr Ethuro had fallen out of favour with the party and its leadership.
Political analysts and Opposition senators suggest the former Turkana Central MP was dumped for his questionable loyalty.
University of Eldoret political science lecturer Philip Chebunet said Ethuro was, at best, elusive and did not fit in the competitive political environment of the first modern Senate.
Demonstrated neutrality
"Although he demonstrated neutrality during his tenure, there was need for Jubilee to change strategy and go for a more aggressive leadership in the Senate in the prevailing political environment," said Dr Chebunet.
Chebunet said Jubilee did not want Ethuro to steer the House for another five years because he had failed the loyalty test.
During campaigns for the August 8 General Election, some pundits said Ethuro was seen to be reluctant to campaign for Jubilee. Other observers said Ethuro was viewed as somebody who was not keen to push Jubilee's agenda in the Senate with gusto.
"His refusal to support Jubilee in his Turkana backyard, where the Opposition carried the day, caused party mandarins to conclude he was a National Super Alliance (NASA) sympathiser," said Patu Naikumi, a political science lecturer at Maasai Mara University.
Mr Naikumiu argued that unlike his National Assembly colleague, Justin Muturi, whose support from Jubilee was never in doubt, Ethuro was a fence sitter during the campaigns, allowing the Opposition to take full control of Turkana.
"He was missing in action when he was needed most. He even indicated that he would not take sides. That has cost him dearly," said Naikumi.
Turkana Governor Josphat Nanok retained his seat after beating immediate former Senator John Munyes of Jubilee.
Before his election as the Senate speaker, Ethuro was a trusted lieutenant of DP Ruto in the defunct United Republican Party (URP).
Ethuro kept a low profile since becoming the speaker, taking the middle ground in most of his rulings and often making what have come to be referred as "Solomonic rulings".
"Apart from consensus, he favoured a bipartisan approach on issues of national interest. That earned him respect and admiration from the Opposition," said Ajwang Agina, a political analyst for German broadcaster Deutsche Welle and France's Radio International.
Mr Agina, who is also a human rights lawyer, said Jubilee could be forgiven for feeling that Ethuro gave the Opposition too much leeway. He cited a case in which the Opposition almost carried the day during the amending of the controversial electoral rule to pave the way for a manual vote tallying backup system.
Against amendment
The Opposition was against the amendment that had earlier been passed by the National Assembly and assented to by Uhuru. Ethuro's decision to order police officers deployed to Parliament to withdraw from the precincts ahead of the amendments debate did not go down well with the establishment.
After a day-long debate that was characterised by tension and name calling, the Government's side carried the day, but not Ethuro's popularity within Jubilee's inner circles.
"He did not behave like somebody who knew where his support came from. His cosy relationship with the Opposition was his main undoing," said Agina.
Another incident that cast Ethuro in bad light with Jubilee was when the Opposition heckled Uhuru last year, as he addressed a joint sitting of the Senate and National Assembly. While Mr Muturi took a hard stance and sent hecklers MPs out, Ethuro appeared reluctant to do so.
"He seemed against it but did it after being prodded. That and other incidents led to him being branded as an Opposition sympathiser," said Agina.
Others feel Jubilee was hellbent on rewarding Lusaka, who led the party brigade in Bungoma County, a traditional Opposition stronghold, and helped Uhuru get more votes than expected.
Job on line
"He put his job on the line by taking a stand unpopular with his people, who have been voting for the Opposition. It was time to reward him," said Kuria Kanja, a political science lecturer at Maasai Mara University.
But not all see a punitive hand in Ethuro's removal. Kericho Senator Aaron Cheruiyot says the decision to remove him was arrived at after a consensus.
He said Ethuro was a respected speaker and would be given another job in the Government.
"The President just deemed it fit to reorganise and re-energise the House leadership," he Mr Cheruiyot.
The focus now shifts to the new Senate speaker, with some questioning his ability. Homa Bay Senator Moses Kajwang cites a scandal involving the procurement of wheelbarrows when Lusaka was Bungoma governor.
"The Senate had not dispensed with the scandal (that occurred) before the General Election," said Mr Kajwang.
Murang'a Senator Irungu Kangata on the other hand believes Lusaka is fit for the job and comes with solid administrative credentials.
"His academic qualifications and experience as a long-term administrator are needed to steer the House," he said.
Narok Senator Ledema ole Kina said the new speaker must run the House without partisan interests and State interference.
Source ink-standardmedia.co.ke