Kenyans turn to cheaper car imports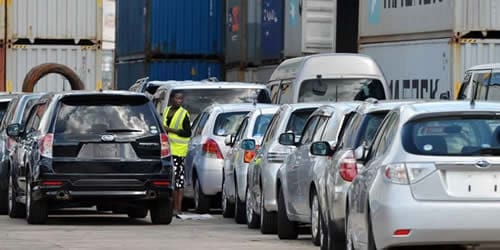 Kenyans raised their appetite for low-priced imported cars, with the average unit cost dipping below Sh1 million in the six months to June. Official data shows that the country shipped in 41,379 units of vehicles valued at Sh39.3 billion in the first half of 2017, translating to an average of Sh949,757 per unit. This is 18 per cent higher than the 34,989 units that the country imported in a similar period last year at a higher cost of Sh40.9 billion, data from the Kenya National Bureau of Statistics (KNBS) shows. This puts the average of last year's car import bill at Sh1.16 million, which is Sh210,000 more expensive than this year's average. Dealers say increased demand for low-cost vehicles for taxi-hailing apps such as Uber has pulled down the average unit cost. "More people are going for small budget cars like Toyota Belta," said Charles Munyori, the secretary-general of the Kenya Auto Bazaar Association, a lobby group for second-hand car dealers. "Increased use of services like Uber definitely has a hand in this as young people buy units they can afford for business," he added.
Taxi services
Taxi hailing firm Uber said last week that it has 363,000 active users in Kenya, making it the second biggest market after South Africa, which has 969,000 active riders. The data released on Thursday also shows that 5,000 and 12,000 Uber drivers are signed up in Kenya and South Africa, respectively. Besides Uber, other firms are Taxify, Little, ShareCab and Mondo Ride, underlining Kenya has a huge market for the taxi-hailing apps. Kenya's car market is dominated by low-priced second-hand imports from countries such as Japan. The KNBS data shows that in the full year of 2016 Kenyans cut spending on imported vehicles by Sh31.7 billion to Sh85.5 billion from Sh117.6 billion in 2015, reflecting a 27 per cent drop. Motor dealers attributed the cutback to reduced demand due to tax measures introduced in December 2015.
– businessdailyafrica.com