The 'Wanjigi Wife/Wetangula Challenge'- All The Photos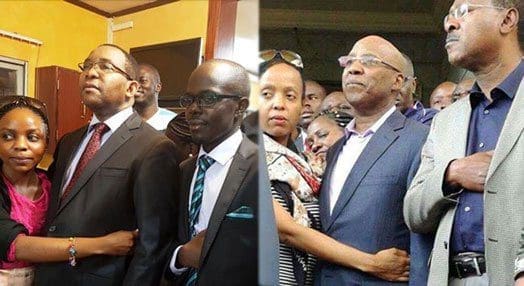 Trust Kenyans to pick up on the smallest details of anything and turn them into a humorous affair. Yesterday, when the country was glued to their television sets to listen to billionaire wheeler-dealer Jimmy Wanjigi, Kenyans quickly noticed how his wife, Irene Nzisa, stuck to his man like glue.
Mrs Nzisa was at the forefront, side by side with her husband as he accused the Jubilee government of persecuting him and his family, only because of his political belief.
Appearing in public for the first time, Nzisa kept a keen eye on Jimmy throughout as he narrated the siege that befell his home on Tuesday.
At one point, Mrs Nzisa was seen with her arms wrapped around her wealthy husband, something that netizens claimed was a way of Nzisa marking her territory.
Then came the 'Wanjigi Wife Challenge' as netizens took to various social media platforms to post the following pictures.