Columbus, Ohio: Kenyan woman dies in her apartment,body discovered later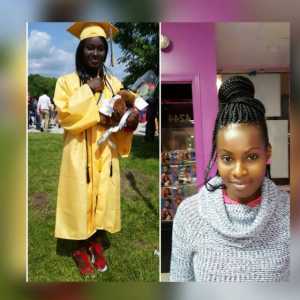 Irine Mudagale Yonge, 23, of Columbus, Ohio, suddenly passed away on December 29th, 2017. She collapsed in her apartment in East Columbus while preparing to go to work. Her body was discovered a day later after her concerned workmate notified the police since she did not show up at work nor responded to her cellphone calls.
Family and friends are making funeral arrangements in Maryland and Ohio. Her funeral service and interment will be at Makuchi Village, Makuchi Sub-location, Vihiga County in Western Region of Kenya on Saturday, January 27th, 2018.
Irine was a graduate of Highpoint High School in Hyattsville, Prince Georges County, Maryland. Miss Irine Yonge moved to Columbus from Maryland in September, 2015 in pursuit of work and a career as a nurse. She was an employee of Amazon in Columbus, Ohio. Irine was enrolled at Columbus School of Practical Nursing where she was to graduate in 2018. Her hobbies included dancing, cooking, reading, cleaning, music and braiding hair.
Miss Yonge was a passionate and loving person; she will be dearly missed by friends and family. She's survived by her mother Margaret Yonge; siblings Lawrence, George, Norega, Silvia, Linda all of Maryland, USA, Monica Geh, Ferry Geh (brother in-law), and Alex Nandwa all in Canada, Uncle Richard and Ruth Sanya (USA).
The funeral committee and family will communicate her funeral arrangement updates via social, print or electronic media links provided to for memorial gifts. Bacon of DC., and Evans of Ohio; funeral homes are coordinating her funeral program. The family wishes to send sincere gratitude to those who have come to their aid in prayers and other means.
"Thanks for the brief visit"
Committee:
Jaja Yogo 6148496861
Anna Machio 21254364298
Rose A. Ballard 5715942998
Harreit Avedi 2404135929
Rose Khasiala Amolo 2023612939
CashApp $khasiala