Kenyan Diaspora artiste dreams shattered after testing positive for TB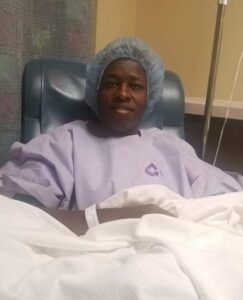 Kenyan Diaspora artiste Gerriey Wainaina in a bold and courageous move.has revealed the challenges he has been going through with his health and how a T.B positive test killed his dreams.
Wainaina moved to America few years ago with his Romanian-born American wife Viorica Aurora and they are  blessed with one daughter.
Through his facebook page, the Mchanganyo hit singer revealed that his ambition after settling in the US was to continue with music and he decided to try his luck in the USA Airforce but all did not go well.His dreams dream died on arrival as he was disqualified due to T.B positive test. Read his sad story here below:
Hi. Everybody this is Gerriey Wainaina… *Doctor's *report* *Continuation*… as some of you might have read or heard from my fb post or from family I choose to convey here and bring you to light regarding my health. When I came to America my mind was set i wanted to continue with my passion for music. Therefore I really wanted to pursue that ambition and no better place than joining United States of America Airfoce as a musician. I went a head to do the MEPS test. If I say I am A student I will be lying on your face nonetheless I passed pretty good on all prerequisites apart from physicals. My dream died on arrival as I was disqualified due to T.B positive test (most Kenyan citizens have false positive in a America coz of the BCG vaccine that we received while we are toddlers) Apparently you have to be treated for Latent (exposure) to T.B. but first they have to check your Kidneys as they have to be working well to start the six month tb therapy medicine plan. After scans, series of blood test and biopsy I was diagnosed with kidney disease stage 5 renal (interstitial nephritis) inflammation that left my organ function at 9%. This disease is treatable so I was given steroids in the hope of resersitating my organs but the projected result was futile as my percentage kept going from bad to worse (5%)…Surprisingly all this time it was non symptomatic (as in I always feel normal me without knowledge that my inside is dead sick, Back home we wait for pain to visit the doctor.. story for another day) so my nephrologist thought it wise to counter this monster before escalating to irrivasable height by doing dialysis as we wait for a more permanent solution I.e transplant… which takes long years on queue if you have to wait for a deceased donor but if I get a living donor I can do the process as soon as possible… will be putting it out to well wishers out there preferably living in US with good insurance to be my donor… Now before I divert too much I did today a small surgery to place a catheter for P.D dialysis the option I chose to do… in three weeks time after I heal properly I will embark on the daily dialysis process.
1. Thank God with Me for good doctors and plan.
2. Pray with me as I start this long journey. It will avail much.
Gerriey Wainaina.
Thank You.