Down to earth Swiss President sitting on pavement excites netizens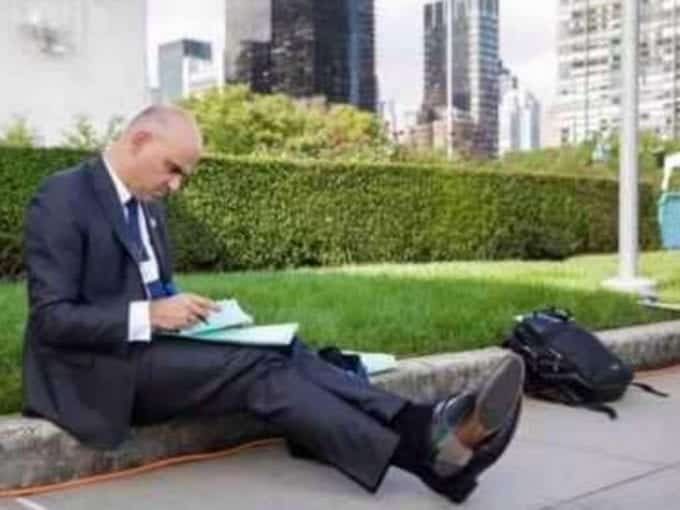 A photo of the Swiss President sitting on a pavement in New York during the UNGA general assembly has excited netizens.
President Alain Berset excited Kenyans in June he tweeted in Kiswahili to announce his trip to the country.
"Mimi rais wa Uswizi naja kutembea nchi ya Jamhuri ya Kenya kuanzia siku ya jumapili hadi jumanne wiki ijayo Naja nikijua kuwa Kenya ina sifa ya kuwa nchi nzuri ilio na watu wakarimu sana. Natarajia kuwa na mazungumzo mazuri @presidentKE @UKenyatta ninapowasili,"tweeted Berset.
Social media users lauded his humble way of leadership, saying it is not about red carpets and motorcades.
"Swiss President Alain Berset reading his notes on the pavement in NYC during #UNGA. He tweeted to Kenyans in Kiswahili during his visit to the country in July," read a tweet.
Keli tweeted, "Kenyan leaders don't take notes in the first place."
Masinde Johnson wrote a great picture worth emulating by our leaders who surround themselves with a large number of bodyguards at the taxpayers' expense.
Dancun Makori said, "Simplicity at its best. Swiss President Alain Berset reading his notes on the pavement outside the United Nations HQ in New York during the 73rd general assembly! In Kenya, Governors with fake papers must be treated and addressed as "Mtukufu Gafana".
Eric Ndemange wrote," When African heads of state were being chauffeured in huge convoys and spending nights in luxurious hotels in NY during the UN General Assembly, the President of the Swiss Alain Berset was spending the night with his staff in one apartment, The GDP of Switzerland is nine times that of Kenya.
He used a train to Philadelphia for a discussion on direct democracy.