Revealed: Expensive Life of Dubai Fake Gold Scammer Jared Otieno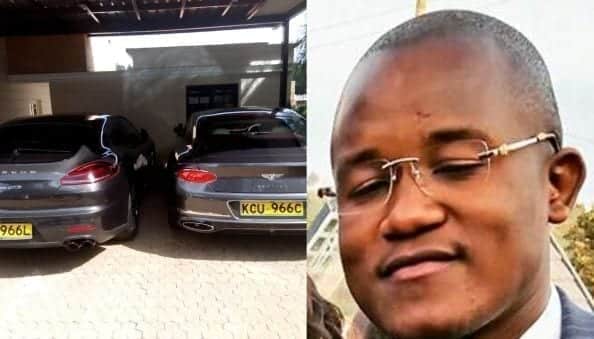 Revealed: Expensive Life of Dubai Fake Gold Scammer Jared Otieno. One of the main suspects in a fake gold scam that allegedly cost a businessman Ksh300 million, going on falsely rope in the Dubai Royal family member, is a man with an enviable taste for the fine things in life.
Jared Otieno's love for the flashy life is an open secret, however, a recent report by The Standard, took the meaning of the word opulence to a whole new level, with claims that a single front seat in one of his luxury cars cost a mind-boggling Ksh 711,300.
The seat was fitted into his custom made 2018 Bentley Continental GT, which set him back a cool Ksh47 million.
According to the report, Mr Otieno also ordered for the fitting of Naim for Bentley music system to be fitted into the car at a cost of Ksh1.7 million, state of the art night vision costing Ksh 626,000, a rotating dashboard display that cost Ksh1,2 million, as well as a mood lighting – used to help reduce the drivers' fatigue levels during long night drives, which cost him Ksh 400,000.
The car is an eight-speed double-clutch automatic and has some light-emitting diodes (led) welcome lamps, which cost Sh100,000.
A statement from Bentley Nairobi, filed before Justice Onyiego, reveals that he paid for the Bentley in 14 instalments. The first instalment of Sh6 million was paid on March 9, 2018, while the last instalment of Sh3.5 million was paid on April 16 this year.
Following the probe into his involvement in the gold scam saga, the government seized his Bentley as well as his Porsche Panamera 2015 that allegedly cost Ksh30 million.
The government Asset Recovery Agency confiscated the luxury vehicles, claiming that they were both proceeds of crime.
The investigating officer in the high profile case, Jeremiah Sautet, confirmed that the two vehicles were currently being held at the DCI headquarters.
Back in 2015, Jared Otieno shot into the limelight when he went to pay his wife's dowry in Meru, bringing the entire town to a standstill with his convoy of fuel guzzlers as well as several choppers.
Justice Onyiego will determine whether to release the two luxury cars on November 15, 2018, following Otieno's application to have them released to him, claiming he had bought both of them back in 2018 before the gold scam saga and claims against him were made.
The investigations into the fake gold saga, later on, took a major twist after details emerged about the identity of the alleged victim, with the UAE and DCI investigating Ali Zhandi for allegedly impersonating the Vice President and Prime Minister of the UAE and ruler of the Emirate of Dubai Sheikh Mohammed bin Rashid Al Maktoum.
Source-kenyans.co.ke