Joyce Akinyi's Multi-Million Property Seized by Gov't over drug trafficking
Joyce Akinyi's Multi-Million Property Seized by Gov't over drug trafficking
A businesswoman suspected of drug trafficking lost her property after the government ordered the Assets and Recovery Agency to seize her two cars.
Justice Mumbi Ngugi made the ruling after ARA applied to have Joyce Akinyi's assets and Ksh 34 million in her bank accounts forfeited to the government.
"A preservation order is hereby issued stopping her or her employees from selling, transferring or disposing of motor vehicles, Toyota Crown and Toyota DBA pending determination of the suit," Ngugi ruled.
The judge further ordered her to surrender logbooks to ARA within seven days.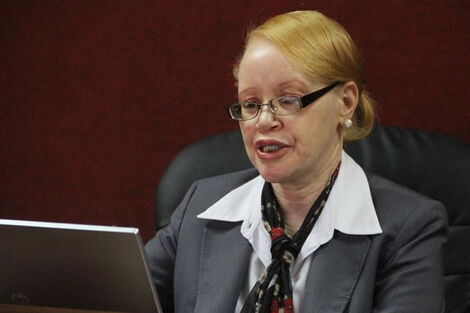 The National Transport and Safety Authority (NTSA) was also directed to register a caveat against the two vehicles.
ARA accused Akinyi of opening bank accounts and depositing Ksh 20 million in one of the accounts before withdrawing Ksh 7.7 million within 10 days in 2015.
In the second account, she deposited Ksh 50 million within three years and once withdrew Ksh 20 million in an instant.
"My investigations established that there are reasonable grounds to believe that the assets in issue are proceeds of crime through illegitimate trade in narcotic drug substance conducted by the respondent and has not given a reasonable explanation to prove any legitimate source of income," Fredrick Muriuki, an investigator stated.
"The assets and property were, therefore, obtained through illegitimate trade in narcotic drug substances, hence are proceeds of crime that should be forfeited to the government," ARA lawyer Joyce Ngelechei added.
On Saturday, July 13 2019, Akinyi was arrested with 2kg of heroin valued at more than Ksh 3 million at a club in Nairobi West. Two other suspects were also apprehended during the raid.
In 2015, Akinyi together with three other suspects were arrested but later released after being accused of trafficking drugs. In 2013, she was also arrested with Budalang'i MP Raphael Wanjala at Isinya on the Nairobi-Namanga highway over claims of drug trafficking.
Akinyi became famous after fighting for property with a Nigerian man who was later deported to Nigeria.
Source-https://www.kenyans.co.ke/
Joyce Akinyi's Multi-Million Property Seized by Gov't over drug trafficking