Photo:Is this the man Lupita is dating?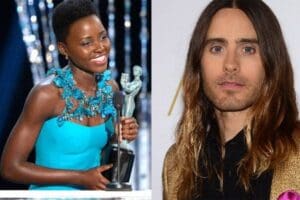 Jared Leto and Lupita Nyong'o have sparked rumours they are dating after being spotted flirting with one another.
The Hollywood stars – who have been nominated for the Best Supporting Actor and Best Supporting Actress awards at the upcoming Oscars – were seen getting cosy at the Crosby Street Hotel in New York City on Wednesday (12.02.14).
A source told the New York Post newspaper: "They were huddled at a corner table together looking very close."
The pair sparked they were getting close after they were seen spending a lot of time together at the Golden Globe awards in Los Angeles last month and various other events this month.
Lupita, 30, reportedly had an on-set romance with Chiwetel Ejiofor, 36, while filming Steve McQueen's '12 Years A Slave', but the relationship fizzled out after filming wrapped up last year.
Meanwhile, the 30 Seconds to Mars frontman had a high-profile relationship with Cameron Diaz in 1999, and the pair became engaged in 2000, before ending their romance in 2003.
However, Jared – who has also been linked to Taylor Swift and Alexa Chung recently – insists sometimes looks can be deceiving.
He told Marie Claire magazine earlier this year: "You know sometimes you get linked to someone you've never met and you're like, 'I wouldn't mind actually getting to know her.' "
Although, with a hectic working schedule and various other commitments, the 42-year-old actor admits he's not looking for love at the moment.
-nation.co.ke/