WHY KENYANS 'WOULD RATHER DIE' IN SAUDI ARABIA THAN STAY UNEMPLOYED BACK AT HOME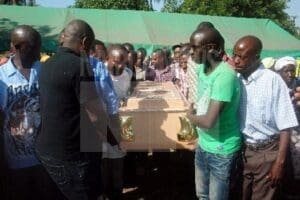 Kenyans working in the Middle East say they are tempted to move abroad by the lucrative job offers available, despite the well publicized risks that come with their stay in the Gulf nations.
These risks include increasing cases of verbal and severe body harm inflicted on them by their employers.
This hasn't deterred hundreds of middle-aged Kenyans from seeking menial jobs in Asia, with Qatar, the United Arab Emirates and Saudi Arabia among the favourite destinations.
These interesting revelations by a number of Kenyans Nairobi News writer spoke to, comes days after a gruesome video of a Kenyan woman in Saudi Arabia being assaulted by her employers was exclusively obtained by Nairobi News.
The one-minute video displays the worst form of torture in which the woman's privates are burnt using a cigarette lighter with her hands, mouth and feet all tied up.
Despite all this, a couple of Kenyans in Saudi Arabia suggest they rather suffer such pain, but earn some income at the very end of it all, other than remain at home where there "are no job opportunities".
"Every job or even situation has risks attached therein," Rosa (not her real name), a Kenyan doing menial jobs in Saudi Arabia, says.
MONTHLY INCOME
"I completed my Diploma in Information Technology at the (then) Mombasa Polytechnic back in 2003. I thereafter applied for tens of jobs back at home but was never successful," says Rosa.
"Suddenly I got into an abusive marriage. My partner continuously abused and cheated on me. So when I got the opportunity to come here through a cousin of man who runs an Agency in Nairobi, I never thought twice," She narrates.
Rosa says she makes an average Sh 180,000 per month from her monthly income and side hustles.
"This amount is averagely four times more than what my former school mates back in Mombasa earn as gross income a month," she says.
"I have now saved about Sh 2 million over the last two years and am looking to double that amount before returning home to start a business."
The 31 year old says she was lucky to get a "considerate family" as an employer in Riyadh.
"They have never abused or beaten me, the only challenge however is that they overwork me. I work for 14 hours each day non-stop throughout the year. But I have focused my eyes on the goal I intend to achieve. Ask the Government to create jobs for us and we will happily return to Kenya," Rosa concludes.
-nairobinews.co.ke