Against all Odds:Diaspora Kenyan who won't give up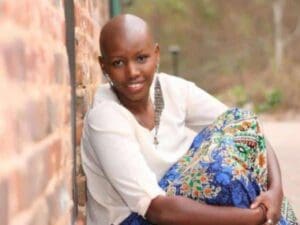 When Wambui Njogu moved to the US in 2012, she never imagined that a year later she would be sitting in a doctor's office been told that she had cancer.
"Initially I had gone for a routine check-up because I was due for a physical exam. When my blood work came back, my results showed that I had too many white blood cells. This alarmed the doctor and I was referred to a hematologist," says Njogu.
Still clueless as to what may be wrong, Njogu had some more blood tests done and had to answer a plethora of questions about her health.
"They wanted to know if I got fatigued easily, had shortness of breath or if I had noticed any lumps in my body. Thing is though, these symptoms were not new to me, back before I left Kenya. I was admitted a few times to Nairobi Hospital with those symptoms and also joint pains. So, I didn't think much of it. Since my diagnosis then didn't reveal anything," she shares.
A few days after her tests, the dreaded call came in and she returned to the hospital. As soon as the doctor showed up with another colleague, Njogu was sure that things were about to go south.
"I remember I was I'm sitting down and the doctor, all business at the time, tells me that I have leukemia and it's acute lymphoblastic leukemia. He doesn't say cancer. So, the first words out of my mouth is what vitamins do l need to take. He looks at his colleague and back at me and says, 'you have cancer'. I'm in shock. Cancer can only mean death! Right?" she muses.
Following the end of her consult and still in shock, Njogu sat in the waiting area of the hospital trying to come to grips with what was happening to her. "All I could think of at the time was I came to America to better my life but looks like I'm going to die. I was in denial for a while. I started off by going for therapy. Mostly because the doctor believed I needed to first understand what had just happened and make sure my mind was right.
"I come from a country where we don't talk about our feelings. I was scared out of my mind and no way was I going to express that. Fortunately, I was assigned to a psychiatrist who did not give up easily. After a few no shows for my therapy, he decided a different approach. We visited St. Jude Children's Hospital the only national cancer institute-designated comprehensive cancer center devoted solely to children. And that is when I let my guard down. I accepted my fate. The children there lived like they had no worry in the world; some had cancers I had never heard of. But they were troopers. The strength in them was overwhelming and the interaction with them gave me no reason to sit around and feel sorry for myself."
When Njogu got back to her home in Atlanta, she began her therapy. A week later, she made an appointment with an oncologist. He did some more blood tests including a bone marrow and spinal fluid test. Once her results were out, he called her in again to discuss her treatment options.
"Chemotherapy was the way to go. I would be getting six hours of infusion three times a week. I didn't want to know for how long I was to do this because I didn't want to get disappointed if I passed the time frame. Initially with my treatments, I didn't have any side effects for a while, then it finally hit. It was terrible, I had everything from the nausea to fatigue, dry mouth and loss of appetite," she says.
After nine months of intensive chemo, she went into partial remission, which meant she could cut back on her treatment and was put on oral medication. Unfortunately her reprieve didn't last long.
"I have been on IV chemotherapy, oral chemo, and radiation (she developed tumors on her lymph nodes) for almost 10 years now. I have gone into remission and relapsed. I have been on many trials drugs (some worked others didn't) and came with all types of side effects. I have doctors who have my best interest. I get asked why I never agreed to a bone marrow transplant. That was my personal choice. Do I sometimes think maybe I should do it? Absolutely. But I'm ok with devil that I know," she said.
"Treatments, sometimes give you a feeling of emptiness, I get scared sometimes that I will get some type of infection that will take me out. Over the years, my joints have gotten weaker and have some stiffness. I'm forced to tell my mind 'we are standing up'. If not, I'll fall," she adds.
If not for God, her family, friends and healthcare providers' constant support, Njogu admits that she would not have kept the fight. "I have seen what God can do. I have seen the power of prayer. My blessings are because he is a good God. My mum is amazing. She has seen me sick, she doesn't let me see how she gets worried. She is a woman of prayer. She doesn't let me forget who God is and what he can do. My sisters keep me balanced. They are in Kenya, but thank you for the technology. We chat, FaceTime often. I have a nephew now and I'm also a godmother. They both give me some type of drive. I want to be around for a long time. My uncle who is also newly diagnosed with cancer. He gives me strength, he has taken the illness head on and fighting it the best way he can," she shares.
Njogu similarly found solace in running a hobby she picked up five years ago. "I needed an outlet. I needed something that I had control of, no limitations. And running seemed to be it. To date I have ran 12 five kilometer races, 10 10km races, 13 half marathons and three full marathons. Eighty per cent of all these races were run while I was undergoing treatment. I run with a tracker – in case anything happens. I can be easily located and it gives my doctor piece of mind," she says.
She has used her new love for running to raise money for other leukemia patients. "All the many miles that I run, I have local business pledging. For example for every 100 miles I run – I get $50 or $25 per mile. At the end of the year, on a good year, I run between 700- 900miles. From the money raised, we make a donation to St. Jude Children's Hospital and the Lymphoma society.
Whenever she gets the opportunity, Njogu also gives talks in seminars and conferences at hospitals. She meets with other cancer fighters and survivors.
"If you have a family member, friend, colleague, support them, you may not know what to say. But that random text, call, email goes a long way. If they want to cry, punch through a wall, feel sad. Please let them. It's part of the process.
"Cancer is different for everyone. You may know someone with the same type of cancer, same age, that doesn't mean the results will be the same. Cancer is not a death sentence for everyone. And those who didn't win the fight, they fought hard. Those married with partners going through chemo/radiation, be patient. Those drugs make you go through emotions you never knew you had," says Njogu.
One perk she says she got from the whole experience, "Never having to buy hair products again! Bald is beautiful."
-.the-star.co.ke