Millionaire police officer says he's broke during vetting exercise in Kakamega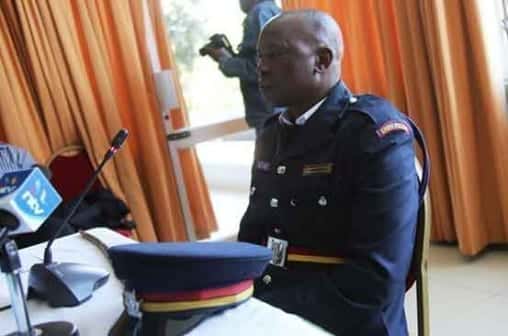 A police officer who had previously declared he was worth Sh20 million was put on the spot yesterday for double speak after telling the vetting panel he was broke and lives entirely on loans.
Police Sergeant Japheth Ochoro stationed at the Webuye Weighbridge, said he opted to borrow money from commercial banks and micro-finance entities to avoid indulging in corruption.
Commissioner Ronald Musengi, who was chairing the National Police Service Commission vetting in Kakamega, said it was not normal for someone who had declared to be worth Sh20 million to live on loans.
"I do not want to cheat the commission and that is why I'm saying that I depend on loans. A bigger percentage of my salary is taken by banks that I borrowed money from," said Ochoro.
This prompted Musengi to ask him if he had filled the declaration form personally, since his explanation was contradicting the one on the form.
Ochoro then told the panel he had several investments ranging from rental houses to a company that supplies building materials and he was a farmer with over 50 heads of cattle.
"You have told us you live hand to mouth, but you are now giving a revelation of your assets. Why did you first tell us you were depending on loans when we can see you have other investments that bring you a lot of cash?" asked commissioner Musengi.
Ochoro was taken to task to explain why he received a substantive amount almost monthly between 2012 and 2013. The commission established that in the said years, the officerreceived money 164 times, amounting to Sh2.2 million from different business people.
He was at pains to explain why he was receiving that lump sum. Ochoro said some of the money was coming from people he was doing business with. He was later released to go and compile the information privately and submit to the secretariat of the National Police Service Commission.
Samuel Simotwo, a police corporal at Kimilili police station, was shocked to learn the commission had information regarding his mobile transactions and bank accounts. He was also in a tight spot on why he was sending cash frequently to some of his bosses.
"In many cases we expect your seniors to send you money because they earn more than you, but what we are seeing here is you who earn less but sending cash to some of your two senior officers frequently, why?" commissioner Musengi asked.
Meanwhile, police constable Wilson Korir based in Bungoma failed to give evidence of the source of Sh1 million he banked in 2013.
"You do not have evidence, what you are telling us is a fabricated statement that we are not going to buy," Musengi told him.
The commission noted a widespread collection of money among junior traffic police officers on roads that is later sent to senior officers. The NPSC further noted that the cash is always sent to appease senior officers so that the juniors are not transferred to hardship areas.
Meanwhile, an officer who was sent home on Thursday for allegedly appearing drunk returned yesterday looking bright and stable.
Corporal Joshua Njoka from Malaba traffic base, Teso North, was, unlike other officers who faced the NPSC in Kakamega, allowed to recount his previous day's conduct before being cross examined.
"I first apologise for not being vetted when I appeared before this panel yesterday (Thursday) afternoon. I was too stressed to stand the interview to the point that I was misunderstood for being drunk," he said.
"You (police vetting panellists) sent me an officer whom I explained to my situation. She counselled me and I am now ready to proceed."
NPSC Chairman Johnston Kavuludi on Thursday advised the officer to "go rest, eat well and return while sober on Friday".
He yesterday welcomed Njoka and immediately put him to task to explain the nature of his depression or how it arose. Njoka said had travelled a lot the previous two days to Embu, where his wife had delivered through a C-section, and back to Malaba then again to Kakamega for the vetting.
Apart from the many M-Pesa transactions with fellow officers, which he explained emerged by virtue of him and the officers being in self-help group, Njoka had no other stain on his career.