Jubilee MP candidate dies after crash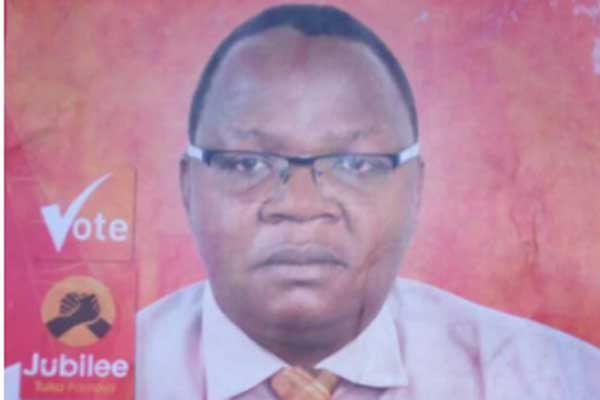 Jubilee candidate for Kitutu Chache South parliamentary seat Leonard Gwaru Mwamba succumbed his injuries after he was involved in a crash.
He died on Friday evening a few hours after he was admitted after the car he was travelling in veered off the road on the Kisumu-Kisii highway.
He was rushed to Christa Marianne Hospital where he passed away.
Local police boss Hassan Abdi told journalists the candidate was travelling in a Toyota Prado with four other people, one of who died on the spot.
Mr Abdi said the car veered off the road while trying to avoid hitting a child who crossed the road. The child too was knocked down and died.
"We have received a report of a vehicle that knocked a bump at high speed and crashed into a ditch next to the Nyakoe Hotel. Three people have so far lost their lives, including a nine-year-old pupil," he said.
Mr Mwamba was rushed to Nyangena Hospital before being referred to Christa Marianne Hospital
Mr Mwamba was on the way to a campaign rally in Kiong'ong'i.
Shoes that the candidate was carrying to donate to residents were strewn all over the scene of the crash.
Jubilee leaders expressed shock at his demise, calling it a big loss to the party in the region.
"We are shocked and saddened at the loss of Mr Mwamba," Mr Anthony Kibagendi, the Kitutu Chache South Jubilee Party campaign team manager said.
Source link-nation.co.ke