Jacob Juma: The Man in the Eye of a Storm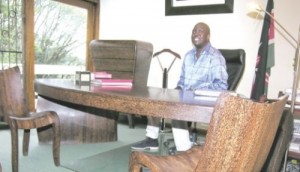 He has stoked the fires of controversy like a whirlwind and comes out as a top businessman in the country. He rubs shoulders with the high and mighty and cuts such big deals that would leave many wide-eyed. His larger than life profile has left many wondering just what it is that makes him tick.
Born and brought up in a humble backyard of Mugore Village in Bungoma County, 42-year-old Juma, who boasts that he has never been "employed by anybody" attended Mugore Primary School, Bungoma High School and later University of Nairobi before plunging into the business.
On the long path to the billion- shilling league, he says his first contract was the refurbishment of Co-operative College in Karen, using equipment borrowed from National Youth Service (NYS). The father of two, who never gives any qualms talking about "my big wealth" and lives in a Sh100 million residence in the upmarket Karen area, says he cannot quantify his wealth "from businesses spread in 52 countries across the world".
The co-owner of the Rare Earths Mining Project, now under the spotlight following withdrawal of its min- ing licence by Mining cabinet secretary Najib Balala, says he is being vilified for treading where the eagles dare. He terms the move political and a case of "vested international interests".
He has also says his group met several times with government officials before the project went ahead, and even received some funding from their shareholders. "I am a straight businessman who operates above board", he insists.
"Balala (Najib) must be joking to interfere with my business", he said on Thursday. "If somebody doesn't step forward to save the local mining industry, the Chinese will take away all our wealth," says he. He claims his company suffered heavily in the Toronto (Canada) stock market a few hours after the suspension of its Kenya licence by cabinet secretary Balala.
"The company lost US $ 17.4 million in one day!" Juma claims his firm had been in touch with the Kenya government all the way and had sought legal opinions to ensure compliance with inter-national accords. He said since news of the project broke earlier this week, he has been "under this dark cloud of vilification," with some suggesting his motive is to profit through a carbon-trading scheme.
"I'm not a rich, scheming businessman, right. That's not who I am. … This is my heart's work, not my hip pocket work, right?" he said, adding that his firm had done extensive research before getting down to business. "We are sitting on a mountain of data," he said.
Apparently, rushing to court is Juma's modus operandi whenever issues are raised about his controversial operations. "Don't touch me or I will sue you for every penny!" is his mantra. Government agencies that have had a run in with him have had noses bloodied in messy court battles that have seen him awarded hundreds of millions in damages or walking free from the taxman as one of the untouchables.
It's the lesson the National Cereals and Produce Board (NCPB) learnt late when it was ordered to pay him more than Sh500 million. National Bank of Kenya, too, has had a taste of Juma, with attempts to collect money lent to him falling flat. Similarly, Kenya Revenue Authority has had to eat humble pie with its attempts to collect unpaid taxes being halted recently by the High Court.
And even before the dust has settled on his attempts to auction property belonging to National Cereals and Produce Board, Juma is on the war path again. This time, his target is Cabinet Secretary Najib Balala. And therelief he seeks is in mind-boggling figures, just like the claimed value of the minerals at the centre of the licence.
Juma has 30 per cent shareholding in the Rare Earth Elements mining firm, Cortec Mining Kenya. He says he will be seeking Sh5 trillion in damages from both Balala and government if the secretary does not restore the mining licence.
"I will bring down this government," he boasts. Recently, Cortec Mining Kenya managing director, David Anderson, claimed the rare earth concentrates and nobium at the Mrima Hills where his company had been controversially been licenced mining were worth close to Sh100 trillion.
Kenya Revenue Authority will not be touching him in a long time after the taxman's initial attempt to collect unpaid taxes led to a messy court case. Claiming three years of unpaid taxes amounting to Sh156 million, the taxman traced and moved to attach Juma's company account at KCB with funds totalling Sh297 million.
Juma quickly filed a suit at the High Court restraining the tax man from touching the company's accounts. To save face, the taxman went back to the High Court, this time, seeking to have Juma compelled to deposit a security for the unpaid taxessince Erad, the company that defaulted on tax remission did not have any traceable assets.
That was two months ago. Juma and his business associates, Grace Wakhungu and Sirisia MP Major (Rtd) John Waluke engaged Nairobi top lawyer Ahmednassir Abdullahi who mounted a vicious battle that left the taxman with egg on his face a second time.
Justice Weldon Kirui dismissed the suit, leaving the taxman with a Sh156 millioninvoice of revenue he cannot collect from Juma. But it is the audacity of Juma toauction NCPB assets more than a Sh521 million court award for breach of contract that has baffled the country.
In 2004, at the height of a major drought, NCPB controversially awarded Juma through his company Erad Supplies and General Contractors a tender for the supply of 40,000 tonnes of maize at US$229 to replenish a depleted national grain reserve.
But before Juma execute the contract, the then Ministry of Agriculture made an about turn and cancelled the contract. Although he did not supply any grain, Juma went to court suing for breach of contract winning a Sh264 million award plus interest through arbitration.
NCPB has over the years fought against the award, that threatens its very existence, with little success. But how could a man who is by all means, government outsider have the guts to embarrass the government and its agencies and even seek to bankrupt strategic parastatals such as NCPB? How did Juma lay hands on the geological information on Mrima Hills which he traded for the 30 per-cent shareholding in Cortec Mining Kenya ltd?
Ordinarily, geological information is a highly protected secret in government, with only a privileged few bureucrats or political leaders accessing it. Usually, the information is traded between well connected political operatives and foreign companies.
To understand Juma's temerity for taking up government officials and its agencies in long and bruising legal battles, one needs to look at the powerful forces behind him. The one one that keeps popping up in Juma's business dealings is that of Grace Wakhungu, a sister to former Vice President Moody Awori and mother to Cabinet Secretary Prof Judy Wakhungu.
The business relationship between Juma and Wakhungu is deep. The two are two co-directors in Juma Construction, one of the road contrac- tors blacklisted by then Roads and Public Works Permanent Secretary, Andrew Kiptoon, for "shoddy and unfinished projects" The two are, similarly, co-directors in Erad Supplies and General Contractors.
It is curious that Juma's office in the exclusive Muthangari suburb neighbours the palatial and GSU-guarded home of the former Vice President. It's Wakhungu's properties and influence as a sister to a senior government official that Juma has used to get financing for his controversial business dealings.
In the long running brawl with NCPB, it is Wakhungu's influence that came to play when Erad Supplies and Contractors wanted a bond to execute the maize supply contract. When, in the 1990s, Juma Construction wanted to a loan from National Bank of Kenya, it was again Wakhungu who provided a plot of land as security for a Sh10 million loan.
Jacob JumaAs it turned out, the piece of land was far way below the value of the money Juma had borrowed and when the company refused to repay the loan, the bank could only recover Sh2.6 million. The rest has not been paid to date. Then there is Walukhe, who is listed as a director in both Erad Supplies.
By DEREK OTIENO and GITAHI NGUNYI
thepeople.co.ke