Wow: Kenya's New Kid on the Block at CNN Soni Methu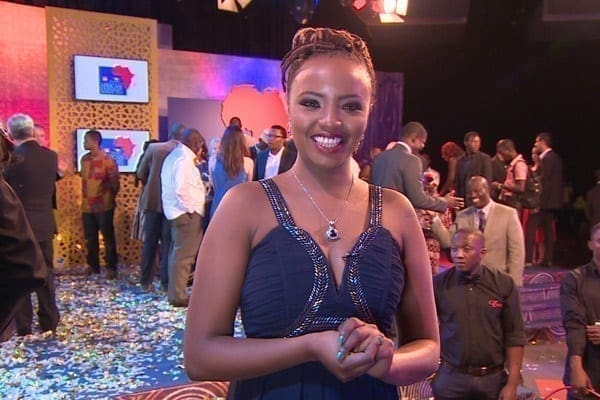 Blink and you could miss Soni Methu. She stands at just a little over 5 feet tall and, as she darts across the room to the water cooler, you would be forgiven for thinking she was a schoolgirl on holiday at the end of a strenuous academic year.
If you look close enough you will see the name "Taj" inscribed on her palm in blue ink as though it has been scrawled using a ballpoint pen.
But Ms Methu carries a reputation far much bigger than her petite frame. She is the only Kenyan presenter working for American broadcasting giant Cable News Network (CNN). This is remarkable considering that Ms Methu was no household name on Kenyan television before she joined CNN.
This is unlike Jeff Koinange and Zain Verjee, her Kenyan predecessors at CNN who have since left.
Instead, Ms Methu mostly made her name as an actress in low-key theatre and TV productions, including being cast as a rebellious teenager in the Kenya Broadcasting Corporation drama 'Hila' and co-hosting a talk show.
But her new role is no make-believe. Months after taking over from Errol Barnett as the host of CNN's Inside Africa, Ms Methu believes she is up to the challenge.
CHANGING LIVES
For the 30-year-old, this high-profile job is a dream come true, one she is humbled to take up. Hidden behind the blonde-tipped dreadlocks and calm face is a determined and energetic young woman out to tell the story of Africa.
She credits the role her acting played in propelling her to the world stage.
"Writer and director Benjamin Odwor cast me alongside writer-actor Steve Matias for a small role in a movie. Matias then cast me as his troubled daughter in Hila, produced by Jackie Njagi," she says.
Ms Methu shared with the producer her dream of hosting a talk show that would change people's lives. Her dream would later come true.
"Jackie helped me create and bring to life the 'Taj Show', which still airs on KBC. Jackie, myself and a few other producers drafted, researched and set up all the shows that helped uplift lives," she told Lifestyle last week.
The show, she said, highlighted social issues like living with albinism, HIV/Aids,alcoholism and early marriages among others. "It was a show close to my heart," she says.
Mr Odwor would go on to introduce her to Vivid Features, an international media company where she worked for five years. It is while at Vivid that she learnt to edit and produce news stories for clients such as CNN.
By sheer coincidence, Vivid was tasked with finding a reporter in Kenya for South Africa's eNCA.
"During the interview, I volunteered to assist Robin Kriel, the bureau chief who was in Kenya to source for feature stories. With some encouragement from Robin and my friends, I tried for a screen test and passed," she says of her journey to becoming the East African Correspondent for eNCA, from where CNN tapped her.
BABU'S CURE
As the host of Inside Africa, Ms Methu will be seeking to tell the African story through her eyes for the global audience.
The presenter says the secret to her success is her curious nature and restless spirit, which has served her well.
But these same attributes have sometimes put her in trouble.
On one assignment to follow up on "Babu" Ambilikile Mwasapile, the famous Tanzanian Loliondo healer, she decided to sample his medicine — a misadventure she says she will not forget soon. Babu had once attracted long queues of people seeking his cure.
"I did his story as a follow-up on his days in the limelight. He continued to practise although he had fewer patients — three when we got there," she says.
But it did not end up well.
"I tried to get my eyes fixed (she is short-sighted) as part ofthe story, and establish whether his concoction worked. It didn't work for me. I got violently ill," she recalls.
The herbs had apparently caused severe pangs of acidity that she had to be hospitalised for a week.
But Ms Methu says her hardest job was reporting on the Westgate terrorist attack in September last year.
"Covering Westgate was one of the hardest stories I have done. I was then working for eNCA. I visited the mall often and some friends were inside (when the attack happened). It was personal and staying objective was tough," she says.
During the three-day siege, in which 67 people were killed and many were injured, she says there was a lot of confusion.
"The media worked so hard to get tangible facts about the attack. Hats off to investigative journalists, especially Kenyans, who gave their time and resources, sometimes risking their lives to tell the story as fully and openly as possible," she says.
PROUDLY KENYAN
But there were also positives in the experience because she says her sense of patriotism was emboldened after watching the volunteers, the blood donations, messages of hope, and "evidence of a resilient Kenyan society that holds a lot of promise for our future".
And Ms Methu is happy to lead the way in amplifying the success of other Kenyans who are doing the country proud at home and abroad.
"There are successful Kenyans out there in many industries, theatre included. Media and entertainment are very competitive and there are not as many platforms to accommodate talent. Everyone has a path," she says.
It was quite fitting, therefore, that one of her first assignments in August was tracing the roots of Oscar-winning Kenyan actress Lupita Nyong'o, whose journey closelymirrors that of her own.
"I met Lupita when I auditioned for Dedan Kimathi (the play) many years ago. We both got roles and rehearsed a bit, but the show did not take off."
They would meet again briefly during the shooting of the TV series Shuga, in which they both had a role.
"Being a film producer, Lupita was also a regular visitor at Vivid Features. She is beautiful, lovely, intelligent and a hard worker," she offers.
While Ms Methu credits her success to being in the right place at the right time, she always wanted to be a journalist. But the information technology graduate from Strathmore University initially felt she was best suited for radio.
"I was never called back for radio (after auditions) but was always successful in TV. I was mostly in the right place at the right time and every contact and experience was a push or pull to the next level," she says.
Her go-getter mentality, she thinks, has also played a big role.
"I attribute my success to not being choosy. No audition, no job, no story and no individual is too big or small. I hustle, my friends would say. I try to create paths where there are none, and I refuse to accept some things have no solution — the resilient Kenyan spirit."
Ms Methu, who has starred in many theatre productions, is arguably among the few success stories from the Kenyan theatre scene and she believes some thespians are their own and the industry's worst enemies.
"Most of them break your spirit before you start. Thespians need to remember how they started out. Most of us (actors) are criticised by family, friends and fans. But instead of making it easier for the next generation, we give them the high school experience (bullying) and a cycle of revenge rather than nurturing talent. Such things have never helped anyone to get ahead in life," she says.
Ms Methu believes those in a position to mentor others should "give advice like you would have loved to be advised and focus on what your trainees have, not what they don't have".
FAMILY FIRST
Through the highs and lows of her career, she has been lucky to have the support of her family and friends who have cheered and pushed her on.
"My family and friends are very proud of me. My mum is my source of strength. She has taught me to walk with my head held high but with my feet firmly on the ground, no matter what. And if I fall, I can always rise again. My sister Faith is my anchor. She keeps me humble."
At CNN, her best friend Lilian Leposo, a producer, is her "good cop/bad cop" all in one. "She has worked with CNN for a while, and gave me the hope and courage to try for this job. Her advice and guidance are close to my heart," says Ms Methu.
She also acknowledges the role of eNCA in shaping her career: "Robyn Kriel trained me with love. She is tough and gentle. She gave me a chance, a fight and some standards. Good teacher. My friends Angela Karomo – a humble and God-fearing soul who reminds me to stay true – and Susan Karambu taught me how to brush off any negativity and to be a strong African woman."
She is also grateful to so many others who have supported her, adding that she would have to write a book to mention them all.
What advice does she have for anyone who wants to follow in her footsteps?
"Don't. Your path is carved by you. Try not to see me as Soni CNN, I too was looking for a hero and no-one fitted my past or my dreams. Stay focused and knock on as many doors as you can. Give up only when you die".
She believes it is important to have a mentor, a mapped out plan of how one thinks elements should be aligned in order to attain one's goals. "But importantly, remember that every journey is different, every individual is special and so all journeys hardly ever take the same path. The difference between where you are now and where you need to be is time and persistence," she advises.
Ironically for a TV presenter, drawing from her own life's lessons, Ms Methu advises people to watch less TV.
"Watch less TV and mingle with people more. You can shape your life if you hang out with the right crowd," she says.
BEST FACE FORWARD
For all the glamour that should accompany her new status, Ms Methu keeps a low profile.
"I am based in Nairobi for Africa. Nairobi is not home yet. I have my family in Mombasa and Eldoret."
She does not own a car and lives in a flat at an estate that is popular with students.
On whether she is dating, Ms Methu says: "I am very happy and still a miss. I have a huge family beyond my blood. For now, I am focused on my new assignment".
Being in the limelight also means she has to be conscious of her looks. So what are her beauty secrets?
"Water every day, moisturiser, sun cream, and a smile. No company can make you look or feel better than your attitude and, should you feel ugly, no one and no makeup will change that," she says.
WHAT'S MORE
Soni Methu is 30 years old and single
Born in Mombasa, Kenya
Her mother lives in Ukunda and her father lives in Eldoret. They are divorced and both have remarried
She spent her time growing up between Mombasa and Eldoret and boarding schools. She grew up with two elder brothers and a younger sister
Her dreams while growing up, like those of most children, changed many times. From wanting to practice law, singing, acting to teaching
Attended St Martin's Nyahururu and had a brief stint in Uasin Gishu Primary in Eldoret
Proceeded to Mary Mount High School, Molo
Studied Information Technology at Strathmore University
Recorded two songs ("Thank heavens I did not release them, I think!")
Does not like snacks (chocolate, sweets, crisps, peanuts, popcorn).
– Nation.co.ke
Wow: Kenya's New Kid on the Block at CNN Soni Methu