Guidelines for the Importation of Duty Free Vehicles by Returning Citizens
Following His Excellency the President's directive that returning residents from the Diaspora who cannot enjoy duty free facility on their left hand vehicles be allowed to import into Kenya vehicles of similar category duty free, The National Treasury and the Kenya Revenue Authority (KRA) have developed guidelines to implement the directive.
The guidelines here below will be administered by the Kenya Revenue Authority and all applications to utilize the facility should therefore be made to the Commissioner of Customs Services.
Contacts:
The Kenya Revenue Authority
Times Tower Haile Selassie Avenue
P.O.Box 48240-00100 GPO Nairobi
Tel:+251 (0)20 281 7800 (hotline)
+254 (0) 20 34 33 42
Fax 341342
Email:[email protected]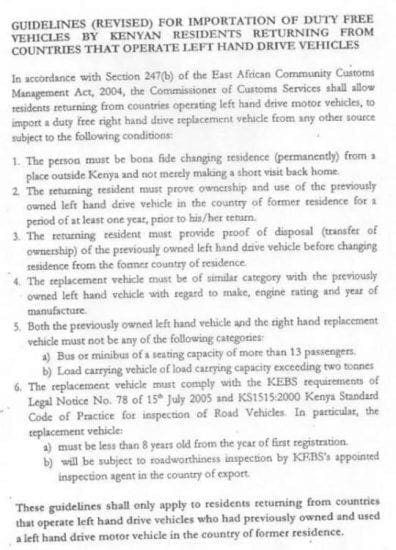 Questions on these directives should  be address to the Kenya Embassy but comments left below will be forwarded to them.