How Raila Odinga plans to run and win 2017 poll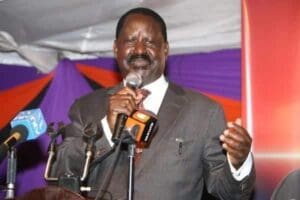 Cord leader Raila Odinga has in the past two weeks launched interactive digital campaign platforms, marking the early stages of a game plan that includes getting his supporters out to register as voters and persuading his partners in the opposition coalition to support his presidential candidature one more time in 2017, the Sunday Nation has learnt.
Although the two events to launch his personal website two weeks ago and a mobile phone SMS number last Thursday were kept relatively low-key, they provide the clearest indication yet that Mr Odinga is not taking any chances in his pursuit of what some analysts believe may be his last shot at the presidency.
At the Thursday night event, Mr Odinga made his intentions clear when he dismissed those who argue he is too old to run for the presidency.
"There is nothing in my age that can stop me from performing the functions of the Head of State given an opportunity," he said.
He had at an earlier event said the website launch had nothing to do with the election as he did not even know if he will be alive in 2017. Stung by the 2013 election loss that some attributed to a disjointed campaign, Mr Odinga is said to be keen on a smart campaign to counter Jubilee.
According to people familiar with the Raila political machine, the ODM leader plans to run on a Cord ticket— which brings together his party, Kalonzo Musyoka's Wiper and Moses Wetang'ula-led Ford Kenya as the main partners.
The plan is to persuade the other Cord leaders to support his candidature for the last time. The individual parties will not be dissolved and will remain intact, all operating under the Cord umbrella.
"Raila will run for 2017 elections unless the world ends before then. There must be clarity on that," Suna East MP Junet Mohammed, who is also ODM's Director of Campaigns, said.
Mr Mohammed said Mr Odinga will run on a Cord ticket.
Already Mr Musyoka and Mr Wetang'ula have announced they will be seeking the Cord ticket to contest the presidency in 2017. On Saturday, Mr Odinga dismissed fears that the coalition could split following announcement by its co-principals that they will seek the presidency in 2017.
"The elections in 2017 are still a long way off but we are confident that when the time comes we will be able to do it without any misunderstandings. I think the media is trying to create an issue out of nothing," said Mr Odinga after a meeting with western Kenya leaders in Kakamega.
"Cord is not in the process of asking its partner parties to dissolve and come up with a new outfit. We are going to exist the way we are."
The remarks by Mr Odinga also come at a time when he is seeking to consolidate his support in the western region and stem an onslaught by President Uhuru Kenyatta who has been penetrating the area through key appointments.
Mr Kenyatta nominated former New Ford Kenya Eugene Wamalwa as Water and Irrigation Cabinet Secretary, and appointed politicians Soita Shitanda, Musikari Kombo and Raphael Wanjala to various parastatal boards.
On Saturday, Mr Odinga was accompanied by Kakamega Governor Wycliffe Oparanya who has dismissed western Kenya leaders advocating the fielding of a single presidential candidate from the region and asked them to back Mr Odinga instead.
Speaking at the Kakamega Golf Hotel, Mr Odinga at the same time said ODM would campaign for Mr Oparanya to chair the council of governors. Mr Odinga held a consultative meeting with party delegates from Vihiga, Kakamega, Busia and Bungoma counties.
Cord strategists also believe that Mr Odinga could get some votes in the Rift Valley, which voted for Jubilee in 2013.
On Friday, Mr Odinga was in Baringo at a time when Deputy President William Ruto is under intense political pressure from Kanu chairman Gideon Moi, also the county senator, and Bomet Governor Isaac Ruto, who have challenged his hold on the region.
Insiders say Mr Odinga wants to craft his campaign to look similar to the 2002 Narc machine that brought Mr Mwai Kibaki to power by creating a "summit" that brings together key party and regional leaders.
Narc brought together Mr Kibaki's DP, Liberal Democratic Party led by Mr Odinga, Mr Wamalwa Kijana's Ford Kenya and Mrs Charity Ngilu's Social Democratic Party.
The unity of purpose then saw the opposition trounce Kanu's Uhuru Kenyatta despite the powerful Moi state machinery supporting his campaign. If he is unsuccessful in persuading Mr Musyoka and Mr Wetang'ula to step down, Mr Odinga plans to offer himself for election through party primaries which most Cord supporters think he will win easily.
"He would want to see a very democratic process where the losers support the winner," an aide of Mr Odinga said.
The former Prime Minister has told his allies in private that there is nothing wrong with the Cord co-principals declaring interest to become candidates.
Mr Odinga also plans to strength his ODM party by holding grassroots elections.
Another key move since 2013 and ahead of the next election has been for Mr Odinga to align himself with civil society activists who are uncomfortable with the Jubilee administration's adversarial attitude towards  non-governmental organisations.
Some civil society activists have attended various Okoa Kenya referendum events. The former PM has also stood by anti-corruption activist John Githongo in a defamation suit filed against him by former Cabinet Minister Chris Murungaru over the Anglo-leasing scandal.
Our sources in Mr Odinga's inner circle have also indicated there are plans to hire a foreign public relations company — which has already started some work on Mr Odinga's image.
This comes as Jubilee lays out its strategy to retain power beyond 2017. President Kenyatta's recent appointments to key government positions, particularly that of the Nzioka Waita as the head of Presidential Delivery Unit to ensure major campaign promises are fulfilled, are widely seen as part of plans to boost his chances of a second term in office.
Also, the formation of Jubilee Alliance Party is meant to make the ruling coalition appealing beyond the Rift Valley and central regions.
"Going into 2013 elections, Jubilee was like the opposition while Raila and Kalonzo were the incumbents who were being questioned on what they have delivered. Now, Jubilee is the one of the defensive and the President and the Deputy have to show that this is what we promised and this is what we have delivered. They cannot use the ICC again," political scientist Adams Oloo said of Jubilee's game plan.
Mr Odinga is said to be keen on using the Okoa Kenya referendum push to show Jubilee has failed in delivering its promises and ensuring security and ethnic balance in appointments. He hopes to ride on the wave ahead of the 2017 elections.
-nation.co.ke