Secrets of Raila Odinga's 2017 election strategy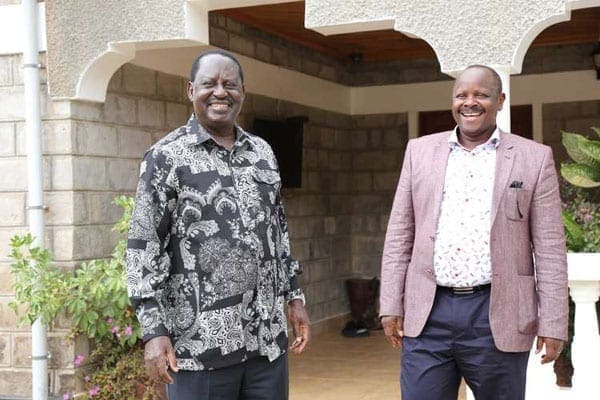 Cord leader Raila Odinga's campaign strategy for next year's General Election can be revealed.
Unknown to many Kenyans and even most politicians, the former prime minister has already set up a campaign secretariat and is putting the final touches on aspects of his campaign eight months before polling day.
Nation inquiries and interviews with those familiar with Mr Odinga's plans to face President Uhuru Kenyatta revealed a push to correct what he believes was his undoing in the disputed 2013 elections.
Pretty aware of their opponents' endless resources and state machinery, Mr Odinga's handlers plan to mobilise a war chest for a successful campaign.
A 14-member campaign committee, which largely excludes his traditional advisers, is already up and running. It is holding regular meetings at the secretariat in a suburb west of the capital.
The team is headed by University of Nairobi don Adams Oloo. It's members are from business, politicians and the civil society who meet frequently in Nairobi and brief Mr Odinga every week on his strengths and weaknesses.
They have come up with a budget of about Sh15 billion. They plan to raise it in the first quarter of 2017.
To eliminate chances of foul play in the August 8 vote, his handlers are investing millions of shillings on a result tallying and relaying system expected to arrive from a European country early next year.
A source familiar with Mr Odinga's new strategy told the Sunday Nation that IT experts from South Africa will man the system from a three storey-building set up in Nairobi until the results are announced.
The equipment, described by those who ordered it as being "state-of-the art", will relay results real-time from all corners of the country. It will run parallel to that of the Independent Electoral and Boundaries Commission.
This is because of complaints of fraud which Cord raised against the electoral commission after 2013 and challenged Mr Kenyatta's victory at the Supreme Court. The court ruled against him.
The committee's work is, however, kept discreet, away from his usual teams. This is designed to avoid distraction and to provide their fresh perspective of political architecture unimpeded.
They keep changing their bases, sometimes meeting in residential areas.
The committee is said to be behind their boss' renewed onslaught on the Jubilee government on reports of corruption in high places.
The committee has divided the country into 14 distinct regions according to the Bomas Draft Constitution of 2005 defeated in a referendum that year.
Each of these regions has a presidential campaign co-ordinator responsible for intelligence gathering and popularising Mr Odinga's bid.
The committee is complemented by three consultants who fly in regularly from Germany to advise on strategy and preparation.
This, alongside a massive war chest he has created ahead of what has been billed as the most expensive election in the country's history, both in terms of what the polls team will spend and the monies individual candidates will splurge, is the surest indication that the former prime minister is not bolting out of his quest to be the next head of state.
Those close to Mr Odinga say he will not spare resources, intellectual and financial, in his bid to decisively win the polls in the first round of voting. The finer details of the kitty will become apparent in the campaign's home stretch.
"We have been playing underdog for a couple of years now and this has helped us ready our arsenal and we are ready to obliterate Jubilee. Incessant scandals in government have only helped our cause to illustrate to Kenyans that these are not people to entrust with the affairs of the state," ODM Secretary for Political Affairs Opiyo Wandayi said.
Keen not to jeopardise the efforts towards an inclusive opposition outfit, Mr Odinga has chosen not to publicise the activities of his campaign team. This would be the fourth time Mr Odinga hopes to run for president should he be picked as the candidate.
At the same time, he is careful not to be held hostage by protracted negotiations towards such an alliance that he told this paper last month would be akin to Narc, which they had in 2002 under President Mwai Kibaki and which blocked President Uhuru Kenyatta fronted by Kanu from succeeding President Daniel Moi.
Both Mr Odinga and his co-principal in Cord, Mr Kalonzo Musyoka, say it is too early to unveil their presidential formation, a deliberate strategy aimed at warding off pressure from their Jubilee opponents to name their candidate and running mate. It will be in Jubilee's strategic interest to know whom they will be running against this early and the opposition appears to be aware of this.
On Saturday, Mr Odinga, who declined to directly comment on the campaign preparations, said the onus to deliver credible polls was on the IEBC. "We may be doing our bit of preparation but it is the duty of IEBC to deliver credible polls," he said.
Sadly, every single move they make betrays this. Why would they, for instance, insist on working with commissioners who should be home? Do they have the country's interest at heart?" he asked.
He questioned the commission's sense of priority in seeking to procure ballot papers in October when there were pressing issues to be addressed.
"This is a worrying trend which Kenyans will resist," he said.
Although he is not the source of this story, ODM treasurer and Kitutu Masaba MP Timothy Bosire told the Sunday Nation that ODM's campaign financing structure will expand once Cord agrees on the presidential lineup.
But as they wait for that, he said they are mobilising resources both within and outside the country aware that they are facing an incumbent with all the state machinery at their disposal.
"ODM has broad goodwill across the country and even beyond our borders. We are getting offers of campaign vehicles, and others willing to fuel them and so we do not expect any challenge in terms of funds," he said.
So far, the team has bought at least six off-road vehicles with the number expected to increase to 100 with at least two assigned to every county by early February when ODM is expected to conduct its primaries.
While Mr Odinga has access to four choppers. Six more are expected by the time he becomes the coalition's presidential candidate or in the event he chooses to go it alone.
Former chief of staff at the prime minister's office Caroli Omondi who was the custodian of Mr Odinga's campaign funds in 2013 polls said, "Money is to politics what a mother's milk is to the baby."
Mr Omondi highlighted areas that gobble much of such cash.
"Branding which involves stuff like t-shirts, caps, posters. Logistics, where you buy and hire vehicles as well as choppers and financial support to party candidates for all the seats and from across the country take a lot of cash," he said.
Putting their budget at a conservative figure of Sh5 billion in 2013, Mr Omondi revealed that he bought a total of 25 landcruisers and tens of others which were hired.
We also understand that Mr Odinga has been reaching out to his old allies around the globe for financial and material support. They are drawn from India, South Korea, Germany, South Africa, Nigeria and next door Tanzania where President John Magufuli has openly identified with him and only came visiting the other day because of the demands of statecraft a year after ascending to power.
Just mid last month, the Cord leader was in Nigeria where he met Enugu State Governor Ifeanyi Ugwuany among other friends in the largest democracy in Africa.
Some of them like South Africa's Deputy President Cyril Ramaphosa is believed to be Mr Odinga's bosom friend. At the height of post-election violence that rocked the country after the disputed 2007 presidential polls, President Mwai Kibaki's PNU party rejected Mr Ramaphosa's offer to mediate truce claiming he would be biased against them.
At some point, Jubilee launched a vicious offensive to wrest some of these friends from him. It was around this time that Nigerian Business magnate Aliko Dangote was said to be preparing to set up a cement factory in the country, a sign he had found new friends in President Kenyatta and his Deputy William Ruto. So profound was the talk that when it failed to materialise, there was a sense of relief in Mr Odinga's camp.
Perhaps to exploit their exclusive access to state machinery and resources, DP Ruto is opposed to the idea of foreigners helping finance the campaigns of the opposition saying it was tantamount to interfering with the country's internal affairs.
"In 2013, these people got their friends in the West to try and influence our elections by filing cases against the President and I at the International Criminal Court, but Kenyans saw right through that plan and rejected it. Kenyans made it clear that they are ones to choose their leaders. Similarly, 2017, it is for Kenyans to decide who their own elected leaders, it will not the West or the money from the West," he said in a rejoinder to Mr Odinga's plea for foreign funding of Opposition political parties in a London Political Summit in October.
Events like the victory of Nigerian president Muhammadu Buhari, almost Mr Odinga's age mate running against incumbent Goodluck Jonathan who like the former premier had been unsuccessful in his previous State House bids and now the latest defeat of Gambian strongman Yahya Jammeh have served to give allies of the opposition chief fresh dosage of morale. They say it signals a new dawn in Africa.
-nation.co.ke