Nude Protest:3,600 signed up to show Obama differences between man & woman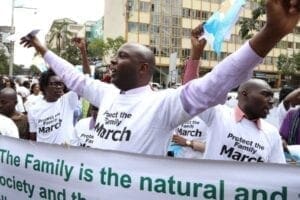 Some 3,600 people have reportedly registered to take part in a nude protest aimed at showing US president Barack Obama the differences between a man and a woman.
Republican Liberty party leader Vincent Kidala said the number includes people who have officially signed up and those who have given their word.
"We expect 1,000 women and 4,000 men but we will be happy if the number increases," he told the Star on phone on Tuesday.
"So far we have at least 100 people per county. We are receiving massive pledges from individuals requesting to register with us."
The Star could not confirm the registration of the 3,600, for the demonstration set for July 22 and 23.
Kidala, who will lead the peaceful march beginning 10 am at the Freedom Corner, said he has held a planning meeting with commercial sex workers.
He praised President Uhuru Kenyatta for saying gay rights is a "non-issue" that will not feature in talks with Obama.
"Obama should know that gay rights is Western. When in Africa he should value our rights," he said.
On July 14, the party sought permission to hold the nude protest after the US Supreme Court legalised gay marriage in all 50 states.
"The procession shall be carried out by approximately 5,000 totally naked men and women to protest over Obama's open and aggressive support for homosexuality," Kidala said.
"In fact our party has a network of prostitutes in Nairobi, Nakuru and other counties. This is where we shall get all these people."
Several Kenyan leaders had asked Obama to avoid gay talk during his visit, but the White House downplayed the demands, saying he will not shy away from the topic.