ICC agrees to push hearings on Ruto, Sang case to January 2016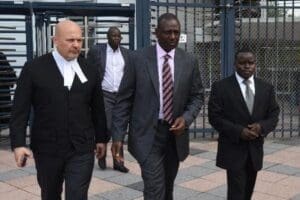 The ICC has pushed oral hearings on DP William Ruto and Radio journalist Joshua Sang no-case-to-answer motions from November 24 and 25 to January 14 and 15, 2016.
The court said the push is to allow the court move the permanent premises.
On Wednesday Ruto had asked the court to excuse him from attending oral hearings scheduled for November 24, due to Pope Francis' visit to Kenya later this month.
In his application, William Ruto said the Pope's three-day visit to Kenya includes a meeting with him and President Uhuru Kenyatta on November 25.
"The chamber should postpone the hearing to November 30, and December 1, 2015, or such later date in order to allow Ruto to be present in Kenya during the Papal visit and to hold the meetings and attend the events scheduled for that period," defence lawyer Karim Khan said on Wednesday.
The court requires Ruto be physically present at the status conference of a no-case-to-answer motion, which he submitted on October 27.
His defence team alleged the ICC coached witnesses and amended evidence to fit in the prosecution's case.
The team accused the ICC of neither sufficiently
investigating nor providing evidence linking him to the 2007/8
post-election violence.
Ruto's defence argues that charges against him should not have gotten to trial because witnesses failed to take the stand.
The Assembly of State adopted amendments that allow an accused person, who is
mandated to fulfil extraordinary public duties at the highest national
level, write to the Trial Chamber to be excused
and be represented by counsel,
– the-star.co.ke