Kenyatta family seeks approval for its dream city outside Nairobi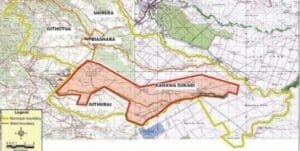 The Kenyatta family has taken a key step to realising its long-held ambition of building a city on its vast land holdings outside Nairobi, with a formal application to authorities for an environmental audit of the project.
The family, which is among Kenya's biggest landowners, wants to build the mixed-use development on an 11,000-acre farm that is currently occupied by its giant dairy processor Brookside.
Northlands, as the planned city is known, is expected to dwarf similar projects such as Tatu City, and incorporates low-to-high income residential areas, commercial space, a central business district, schools, an industrial area and an agricultural zone.
Brookside, currently the sole occupant of the vast piece of land, will continue occupying 65 acres while Gicheha Farm, which supplies milk to the factory and is located inside the project area, will be left untouched.
The land also hosts the Uhuru Kenyatta Secondary School, which together with Peponi School occupy 86 acres.
A Strategic Environmental Assessment (SEA) report for the project indicates that the different zones will support a population of 250,000 people.
The plan, submitted to the National Environment Management Authority (Nema) late last year, does not indicate the cost of the project. But going by the Sh240 billion for Tatu City, Northlands could cost more than twice the amount.
The 11,576-acre piece of land is located 15 km from the Nairobi city centre and is traversed by the recently completed Eastern bypass. Much of the land is currently used for livestock grazing and wildlife — with belts of eucalyptus plantations.
Its strategic location near central Nairobi and the Jomo Kenyatta International Airport (JKIA) is highlighted in the report as major advantages for those seeking to live or conduct business there.
"Whilst a key focus will be to meet the needs of the emerging middle class, different areas will cater for older couples, families, and young professionals," the report says.
"Areas of lower cost housing will also be provided to meet the needs of low-income earners and prevent the emergence of unplanned slum areas."
A total of 3,570 acres have been set aside for residential housing—including low density residential (3,134 acres), high density residential (306 acres) and medium density residential (130 acres).
The medium residential area will have 670 town houses and 368 housing units in flats while the low density area is reserved for 601 villas and 1,320 townhouses.
Northlands will also have a high-density residential area on which blocks of flats having 6,980 housing units and 3,100 townhouses will be built while 390 acres have been set aside for a business district, including 33 acres for a mall/hotel and two acres for a clubhouse.
The business district is located near Kenyatta University and the Thika superhighway.
The planners of the city have also set aside 695 acres for an industrial park, 650 acres for a logistics park while Brookside Dairies will occupy the remaining 65 acres. Some 1,697 acres will serve as open recreational space, including 266 acres of water features.
The biggest portion of the land — 5,156 acres — has, however, been reserved for wildlife conservation and agriculture with Gicheha Farm, which keeps large herds of cattle and flocks of sheep, as the main occupant.
The SEA report says that the master plan will be implemented in four phases over a period of 50 years.
The report indicates that the quarter-a-million residents will put intense pressure on the Eastern bypass and Thika superhighway, highlighting concern over the project's possible impact on human and vehicular movement in the area.
"The projected total daily vehicular trips to and from the development to the west (Thika Road) is given as up to 27,324 at the end of phase 3 while to the East (eastern Bypass) is given as 30,010 vehicles per day at the end of phase 3," the report says.
"These volumes are expected to have a considerable impact on the traffic flow and capacity of the existing roads as well as adjacent intersections."
Northlands, which is owned by Integer Limited, is set to join other large-scale development projects in Kiambu County that have taken advantage of vast land holdings previously used for agriculture.
Thika Greens, Buffalo Springs and Bahati Ridge, Tatu City, Albizzia Downs Estate and RedCoral are some of the developments that have taken advantage of land availability to prosper.
The normal development pattern is to set up the infrastructure (roads, water, power, sewer lines) and then lease out parcels of land to those who want to build homes and develop industries or commercial space.
It also involves finding co-investors to put up flats, which are then sold out. Northlands' location is considered prime for development and land in the area is likely to cost millions of shillings for those looking to buy a piece and settle there.
Northlands is being positioned as an alternative to Nairobi CBD both in terms of access (especially to JKIA) and quality for logistics firms, and other businesses.
"The city has out grown its central business district (CBD), and experiences problems of congestion, lack of adequate office and parking facilities and a poor environment," the report says of Nairobi.
"Many of the office buildings within the CBD are not well suited to modern business requirements, and some businesses are now considering moving out of the CBD, or have moved out and have opted for edge of city centre or suburban locations."
The development is expected to add another feather to the Kenyatta family's investment cap that spans real estate, manufacturing, agriculture, and financial services.
The ownership is also likely to steer the development clear of problems like that experienced by Tatu City where shareholder wrangles have considerably slowed down growth.
The Northlands was mooted in 2011 but this is the first time that they have taken concrete action to actualise the plan.
-businessdailyafrica.com