ODM BLOGGERS BLAMED FOR WRANGLES IN CORD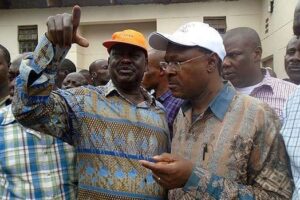 A clique of so called ODM bloggers have been blamed for interfering in Cord's efforts to agree on a single presidential candidate ahead of the 2017 general elections.
Speaking during a morning TV show on Wednesday, Wiper Secretary General Hassan Omar called for sobriety in the manner the nomination of the coalition's presidential candidate will be handled.
Omar said: "Of course we are stronger in unity than if all of us (candidates) go on their own. I left ODM because the nominations (ahead of the previous general elections) were botched. Now, when Wiper leaders make a statement and/or want to have a say in the CORD nomination process, they are intimidated by some ODM bloggers who call us Jubilee moles."
Responding on the accusation, ODM Secretary General Ababu Namwamba, who was part of the panel in the show, implored on Omar to "take it easy" because the "mole business" is part of the game.
"I am embarrassed to note we lost Omar to poor politics. That won't happen again during my reign as ODM Secretary General. As for the mole business, I tell you brother Omar that is part of the game. Don't be scared by cowards who type opinion on keyboards. Nowadays, when one shakes the President's hand, he is branded a mole," Namwamba said.
ODM's Raila Odinga, Wiper's Kalonzo Musyoka and Ford-Kenya's Moses Wetangula are currently tussling over the choice of Cord's presidential candidate in next year's elections.
-nairobinews.nation.co.ke