How Kenyans are losing millions of shillings to sophisticated cyber criminals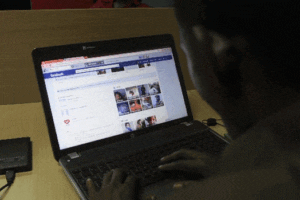 Unsuspecting online users in Kenya are losing millions of shillings to sophisticated cyber criminals on a daily basis, Nairobi News has established.
These criminals, we can confirm following week long investigations, are luring Kenyans into parting with their hard earned cash by impersonating well known personalities including high ranking politicians, who offer them job opportunities at a fee.
Kenyans are losing millions of shillings
Not even a warning by Machakos Governor Alfred Mutua on his official Facebook page earlier this week could scare these determined criminals, as Nairobi News found out.
"The (my) imposter has set multiple Facebook pages bearing semblance of my official account. Please be advised not to send any money to anyone purporting to represent me or my office. Kindly share the above information with your family or friends," Mutua's statement read.
Indeed, the first step for these shrewd and intelligent criminals, as Nairobi News found out, is to open a Facebook account with exact names to the said politician – in this case Alfred Mutua – and then stock it up with the said celebrity's photos.
These lot then go about "updating official information" on the page as if they are Governor Mutua. In between the normal updates, they then share "offers" of jobs the Governor has managed to secure abroad.
One such job offer on Facebook read:
"Job positions has been secured for Kenya citizens in conjunction with Exxon Mobil,Total and Shell who are the major international key players in the Oil and Gas industry in Kenya today, the initiative is to employ our youths in all county and effort to combat crime if interested inbox me."
FALLEN VICTIM
Nairobi News inboxed that particular fraudster with a "request" to secure a job in the Information Technology industry and promptly received the following response; "Contact Hon Pauline Oyombe who is in charge of the Kenya job initiative program ([email protected] <mailto:[email protected]> ) tell her I referred you to her the program will soon end."
sophisticated cyber criminals
On contacting "Hon. Pauline Oyombe" through the provided email, we received – 48 hours later –  another response which contained a neatly designed Kenya County job Initiative Form to be filled in, alongside a request to pay Sh3000 via MPESA to telephone number 0704 89868.
The response information also stated in part: "I am much obliged to assist you as per Dr Alfred Mutua request. Indeed I have directions from the  office. Please note tomorrow is the last day of recruitment and am surprise you are just writing me now… However there is a mandatory form processing fee of Ksh.3000 (Three Thousand Kenya Shillings only) to be paid, make sure you indicate the Mpesa confirmation code on your personal details form attached bellow.
It is understood that thousands of Kenyans have already fallen for this scam.
-nairobinews.nation.co.k