Obama projects transforming face of K'ogelo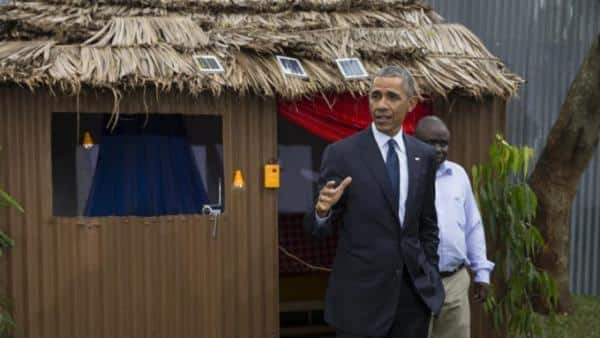 As Americans prepare to vote in the presidential elections in November, K'ogelo village, the ancestral home of outgoing President Barack Obama, is preparing for mock elections.
Almost all the residents of the village who spoke to The Standard on Sunday said they would  vote for Hillary Clinton. She is the candidate of the Democratic Party and has received overwhelming support from President Obama.
But there are divisions within the family on which candidate to support to take over from Barack. President Obama's brother — Malik Obama — last month sensationally declared support for Republican candidate Donald Trump.
"The entire K'ogelo village is supporting Mrs Clinton who has stood with our son Barack throughout his tenure. As the 53rd state of the US, we will vote for her," said Nicholas Rajula. "We expect Mr Malik to exercise his democratic right by coming to vote for Trump in the mock elections."
Two comedians — Lawrence Oyange and Milton Obote — who organised the US mock elections in 2008 in Kisumu, have confirmed they will do it again in November.
In 2008, the duo created a scene that attracted hundreds of people after they organised two polling booths each bearing the pictures of the candidates; John McCain and Barack Obama.
With improvised cartons as ballot boxes, the two took strategic positions outside the Jomo Kenyatta grounds. While Mr Oyange acted as Obama's agent, Obote stood in for McCain.
Mr Obama's queue grew longer as McCain's had no voters. At the end of the mock exercise, Obama won with a landslide, sparking celebrations from his admirers.
A multi-billion shilling international university, a youth empowerment centre — complete with libraries, halls and a 15,000-seater sports complex – and an ultra-modern early childhood development centre are the latest additions to the fast-changing face of K'ogelo village in Siaya County.
And as President Barack Obama prepares to leave office after serving two terms as the principal tenant at the White House, it appears that he is keen on his legacy being felt in the village – and by extension country – of his father's birth.
"The people of K'ogelo have patiently waited to reap from Obama's rise to stardom. Now we are beginning to feel him," says Nicholas Rajula, a relative of the American President.
The Kenyan family of the President of the United States (POTUS) has bought 50 hectares of scenic land bordering Nyagoma K'ogelo trading centre and stretching all the way to banks of River Yala.
The scenic valley is the childhood playground of Obama senior; the same land on which the father of the 44th POTUS walked barefoot to school and grew up herding family goats.
When The Standard on Sunday visited the area, there was a great deal of human activity on the land acquired from several villagers. Men dressed in blue dungarees were putting up a perimeter fence, as women fetched water from the nearby Yala River to the construction site.
These activities have got everyone in the village talking.
"President Obama will be coming to spend his holidays here when he retires," a respected village elder told The Standard on Sunday team in Kogelo.
"At least this is what we know, otherwise what will they do with all this large parcel of land?"
It is on this land, near Katuda Primary School, that a multi-billion shilling international university is being built. The university complex, we are told, is to be named after President Obama.
President Obama's sister, Dr Auma Obama, attempted to water down the excitement, but confirmed that the university project is real and ongoing.
"It is not a holiday home. We are building an international university," Dr Auma said in an interview.
But the university is only one of the many mega projects coming up in K'ogelo and which are directly associated with the Kenyan family of POTUS. In about six months, Americans will have their 45th president in office.
During his visit to Kenya in July last year, President Obama promised to give more assistance to Kenyans and visit Kogelo more often after leaving office next year. At the family dinner in Nairobi on arrival in Kenya, Obama asked his relatives to forgive him for not being able to visit and see them as often as he would have wanted because of the restrictions of his office.
"Part of the challenge that I have had during the course of my presidency has been that given the demands of the job and the security bubble, I can't come here and just go upcountry and visit for a week and meet everybody," he said.
-standardmedia.co.ke