Prophet Owuor makes it rain in Nakuru??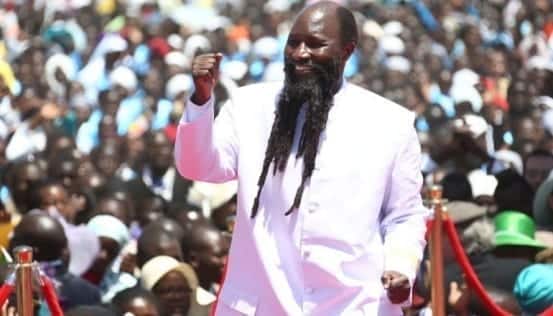 Thousands of faithful attended the recent mega revival meeting organised by the Mighty Prophet of the Lord, Dr Edward David Owuor of the Ministry of Repentance and Holiness.
People watched in awe as the prophet commanded the heavens to open and bring down rain. And yes, it rained! That was the hallmark of the prayer meeting.
Most hotels were fully booked, many offering accommodation to delegates from various countries. The hotels were full one week to the big event.
According to Archbishop Dr Paul Onjoro and Nakuru police commander Hassan Barua, the government deployed more than 1,250 security officers to help maintain order. Some of the police officers — others in plain clothes — conducted patrols across the streets of Nakuru town. The security teams also had sniffer dogs.
"We never had any criminal incident reported during the event because security officers conducted patrols within the premises," said Barua.
Believers began camping at the church a day before the arrival of Prophet Owuor. Many of them erected temporary shelters to cover themselves from the scorching sun and rain.
Mary Wangare who was among believers who camped at the ground, said that: "I am not worried. All I want is to be blessed."
And to show their love for the Mighty Prophet of God, the followers cleaned the streets and roads with water and detergents before for him.
Nakuru reported heavy traffic jam during the three-day event. James Kiprotioch, a resident in London estate, told The Nairobian that he was forced to walk to town or use motorcycles.
"The rally came with blessings, but transport was hectic. Most of the time, I preferred to walk to work. I could not drive," said Kiprotich.
Many vehicles which ferried people to the crusade parked along the roadside from Eveready area towards the grounds.
The crusade attracted many followers, with many arriving in either hired or personal vehicles. Some hit the road on foot to attend the memorable revival meeting.
One faithful, Yvonne Oge from Switzerland, could not hide her joy.
"I am now able to walk. I am so happy for God's faithfulness," she said.
-sde.co.ke