Chama Cha Mashinani fails to name presidential candidate to support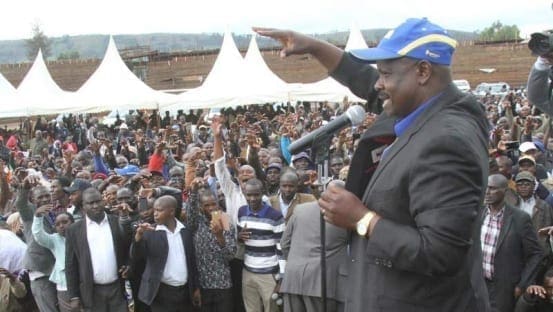 Chama Cha Mashinani (CCM) failed to make a decision on which presidential candidate to support in the August 8 elections. More than 5,000 party delegates who met in Bomet yesterday could not agree on which coalition to back but mandated the party leader, Bomet Governor Isaac Ruto, to open talks with both Jubilee and NASA.
Insiders in the delegates' conference that was attended by ANC deputy party leader, Kipruto Kirwa, said the Myoot Kipsigis Council of Elders was sharply divided on which coalition to support. The source said a section of the council feared that it was too risky for CCM to announce its decision before looking at all the possible scenarios that might emerge.
"There were fears that if CCM backs NASA, there could be a possibility of it not getting the support it requires from the Kipsigis voting bloc in the South Rift region," said the source that attended the closed-door meeting prior to a public meeting at the Bomet IAAF Stadium. The council's chairman, Isaiah Cheluget, threw a spanner in the works when he declined to endorse the decision to back NASA. Mr Cheluget left the meeting at Brevan Hotel and did not attend the public meeting at the stadium.
Another insider said the meeting resolved that CCM should seek reconciliation with the Jubilee leadership before making any decision on which presidential candidate to back in the August 8 elections. Mr Ruto confirmed that he was mandated to seek reconciliation with the Jubilee Party and also talk to NASA on how the Kipsigis community would benefit from the political arrangement.
The governor said he has been consulting with the grassroots leaders and that he will continue doing so for the next two weeks. The Kipsigis Clans Association Secretary General Joseph Kimetto said the group had given the governor two weeks to engage both the Jubilee and NASA coalitions and report back to it to make a decision.
Ruto, however, said those willing to talk with CCM must support devolution, address unemployment among the youth, and ensure there are enough funds to support students from poor families to pursue education. Mr Kirwa said NASA was ready to talk with CCM and that they had agreed to support its aspirants vying for seats in the South Rift and other Opposition zones.
Source link-standardmedia.co.ke