Forget about Nasa, Jubilee is the real deal, Uhuru tells Kisii residents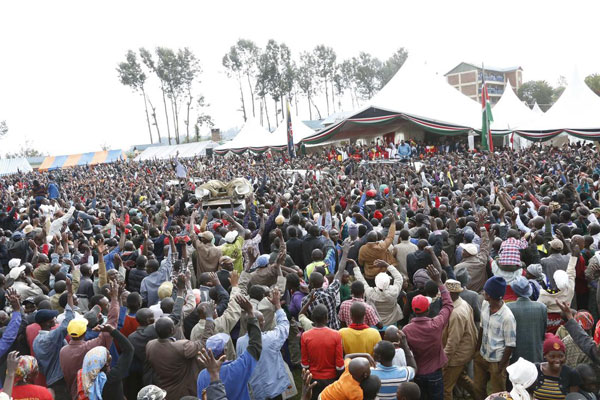 President Uhuru Kenyatta took to the Jubilee re-election to Gusii region where he rallied the region which voted for Opposition leader Raila Odinga in the last election to shun the National Super Alliance.
He denied claims that the Jubilee government had abandoned Gusii and cited the appointment of Chief Justice David Maraga as among top professionals from the area who have been given state jobs.
The President indicated that his government had also allocated Sh22 billion for construction of 400 kilometres of road in the region.
He accused Opposition leaders Mr Odinga, Musalia Mudavadi (ANC), Kalonzo Musyoka (Wiper) and Moses Wetang'ula (Ford Kenya) of being behind challenges facing the county having served in previous governments.
He said the Nasa principals had a combined experience of over 100 years in government and challenged them to demonstrate their development records.
The President who was accompanied by his deputy William Ruto also accused the opposition leaders of dividing the country along tribal lines.
"Our biggest challenge is the politics of tribalism and hatred," he told a crowd at Magwagwa market in Nyamira county where he commissioned the construction of the Chepilat-Ikonge-Chabera road.
The 45-km road is expected to be completed in December this year at a cost of Sh3.1 billion.
"The Nasa people should not come and deceive you. Ask them what they did when they were in government," said the President who is on a two-day tour of Kisii and Nyamira counties.
"We have not neglected you. We have given you a cabinet minister (Fred Matiangi') and the chief justice," he said.
The Jubilee leaders will on Wednesday move to Kisii County where they are set to commission the construction of roads and address a public rally at Nyamache Stadium.
Having run late for a meeting at Viongozi Centre in Nyamira with local leaders, the President invited them to State House at a later date.
"Kujeni tukule mbuzi ndio tupate muda unaofaa kuongea mambo yenu (come we share over a goat meal so that we can get enough time to discuss your issues)," he said.
ODM politicians led by host governors John Nyagarama (Nyamira) and James Ongwae (Kisii) skipped the President's functions.
But Kisii Senator Chris Obure who recently defected from ODM to Jubilee and lawyer Charles Nyachae and East Africa Legislative Assembly MP Joseph Kiangoi played host to the President.
The Jubilee leaders are in a spirited fight to wrest Nyamira and Kisii counties from the grip of Mr Odinga's Orange Democratic Movement.
In the last election, Mr Odinga garnered a total of 358,421 votes in Kisii and Nyamira Counties against Mr Kenyatta's 149,667 votes.
The former Prime Minister secured 236,831 votes with Mr Kenyatta managing 95,596 in Kisii while in Nyamira, he garnered 121,590 votes against the President's 54,071 vote.
Jubilee strategists have identified Gusii, Coast and Western as among Opposition strongholds which could be persuaded to vote for the governing Jubilee coalition in the next elections.
The Nyamira trip follows a similar trip to the Coast region which saw a number of ODM politicians defect to Jubilee.
In Kisii, the President is also emboldened by the defection of Mr Obure, deputy governor Joash Maangi from the Orange Movement.
However, the Jubilee coalition in January suffered a blow following the defection of one of its foremost campaigners in the region, former Cabinet minister Sam Ongeri who joined Mr Odinga's party.
Prof Ongeri and Mr Nyachae will fight it out for the Senate seat while Mr Obure is waging an aggressive campaign to unseat governor Ongwae.
Mr Ruto asked the Abagusii to join government in the next election.
"In 2013 you (the Gusii region) took a different route and voted for the opposition while we formed the government. Don't commit a similar mistake," said Mr Ruto.
"Despite the fact that you overwhelmingly voted for our opponents at the last polls, we decided to work with you and the various high level jobs we have given your people are proof of this," he said.
Mr Ruto hit out at Mr Odinga for constant criticism of the Jubilee projects, saying he had failed to develop the country as prime minister.
"Before he (Odinga) tells you about corruption in our Standard Gauge Railway project, let him first tell you about the graft in his government when he was prime minister, " said MD Ruto.
The president later addressed gatherings at Kebirigo, Magombo and Nyambaria High School, where he commissioned a dormitory named after him.
Source link-nation.co.ke