Disturbing: Kenyan National Anthem Copyrighted by British Company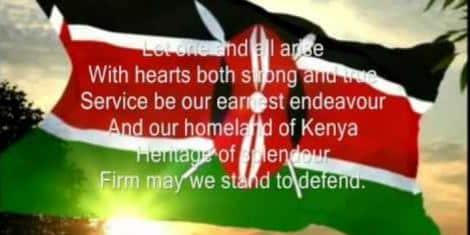 Disturbing details have emerged indicating that the Kenyan National Anthem is copyrighted by a British music production company on American video-sharing website, YouTube.
The revelation came to light when Youtube channel 2nacheki uploaded a video ranking the anthems of various African countries.
"Our video got a copyright strike for using the Kenyan National Anthem," the creator explained.
Upon investigating on the cause of the strike, the youtuber discovered that the composition was copyrighted by British music production company, De Wolfe Limited.
Another company, Ad Rev has claimed the National Anthem on behalf of DeWolfe Music.
"The international company has rights of the National Anthem and is making money out of it," the videographer noted.
Kenyans.co.ke reached out to the Kenya Copyright Board (KECOBO) who confirmed but explained that the composition was not copyrighted in Kenya, rather on YouTube which is an international platform.
The official noted that in the event someone was to upload the National Anthem on YouTube, a strike would be issued by the video-sharing website.
The anthem is work in the public domain since its term of protection ended in 2013. According to the constitution, copyright on a body of work remains in effect for 50 years from the end of the year in which it was first published.
The Kenya national anthem was first published in 1963 under the third schedule of the National Flag, Emblems and Names Act which means its protection ended in 2013 and was rendered to be in the public domain.
"As such no copyright licence is necessary for translation, adaptation or other legitimate uses," legal counsel at the Kenya Copyright Board Kiarie Kaindo explained in an earlier editorial.
Here is the video courtesy of 2nacheki:
In response, KECOBO held that the claims on Kenya National Anthem by Dewolfe Music and others were invalid.
"The alleged claim for copyright by this company or any other to the original rendition of the National Anthem can't, therefore, be supported. The case of derivative must, therefore, fail on the above grounds as well," the board stated.
KECOBO stated that there was a need to secure the use of national symbols by making amendments to the Copyright Act, "to expressly state that even where copyright in certain government works is expired, the use of such works shall still be subject to authorisation as required under the National Flags, Emblems and Names Act."
By MICHAEL MUSYOKA