Cabinet endorses CS Amina's nomination to AU commission chair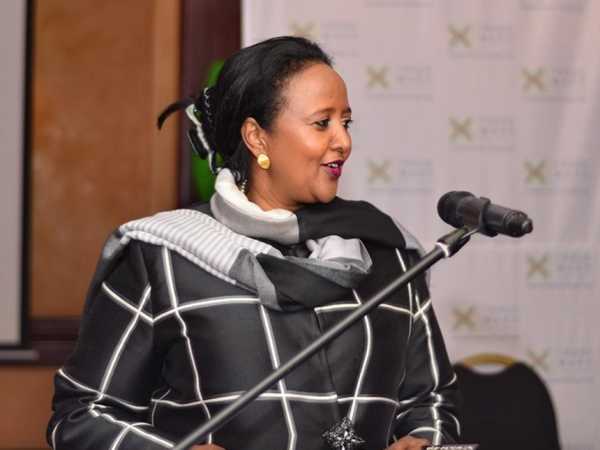 The Cabinet on Thursday fully endorsed the recent nomination of Amb Amina Mohamed to vie for the chair of the African Union commission.
The government is expected to engage in a vibrant campaign to lobby other African Union countries to support Amina's candidature.
Amina's nomination was announced by President Uhuru Kenyatta during a Youth Summit at State House.
The nomination process for the next chairperson started in July this year but failed after the candidates then couldn't get two-thirds of the votes.
The current chair, South Africa's Nkosazana Dlamini – Zuma, has been at the helm since 2012.
The Foreign Affairs CS will face it out with former Ugandan vice president Specioza Kazibwe, Equatorial Guinea Foreign Minister Agapito Mokuy and Pelonomi Moitoi of Botswana.
Amina has served in the public service for 29 years and was once Kenya's ambassador/permanent representative of the Republic of Kenya to the UN in Geneva.
The cabinet also approved the National Climate Change Policy Framework – which awaits adoption by Parliament as a Sessional Paper.
The police will provide a framework for coordinated response to climate change, whose impacts on communities around the world are increasingly evident.
At the same time, cabinet approved the Paris Agreement on climate change which now paves the way for Kenya to officially ratify Copenhagen II (COP II) Framework.
The National Urban Development Policy, which aims at addressing the unprecedented urbanization phenomenon Kenya is currently experiencing, was also approved.
The Cabinet further approved the waiver of land registration fee for all public educational institutions in the country.
The move is aimed at enabling public learning institutions to register their lands in order to avoid incidences of grabbing.
This means that all public educational institutions without title deeds will be surveyed and the same issued without any charge.
The Cabinet also approved waiver of payments for title deeds for Kenyans discouraged by high cost of land registration.
The team also asked Kenyans to set a half day on December 5 for volunteer work, when the country will join the rest of the world in marking International Volunteer Day.
A statement from State House said that President Uhuru Kenyatta and DP William Ruto will lead Kenyans in observing the day.
Cabinet also agreed to take stern action on those invading Private Ranches in Laikipia and other parts of the country.
-the-star.co.ke