THANK YOU: IN MEMORY OF WAIYAKI JOEL NJOROGE-PHOTOS
THANK YOU: IN MEMORY OF WAIYAKI JOEL NJOROGE-PHOTOS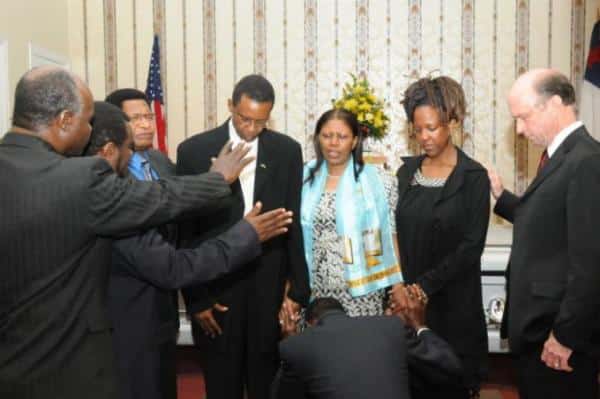 "I know my redeemer lives." (Job 19:25 NIV). 
The Njoroge family – Dr. Joe Njoroge, Rev. Wambui Njoroge, & Anne Njoroge, and our extended family members in the United States, Kenya, United Kingdom & Australia would like to express our deepest gratitude and appreciation for the kind expressions of sympathy, kindness, and thoughtful gestures bestowed upon us during the bereavement of our beloved son Waiyaki Joel Njoroge who passed away at his residence in Los Angeles.
We will miss Chief, AKA "Kaki" greatly. He was a precious gift to our family. We will cherish precious memories of our life with him. We loved Kaki from the day he was conceived to his last minute on earth. He will remain in our hearts and thoughts forever. 
 He was in Los Angeles from January 1, 2010 to July 9, 2011. He was an aspiring film editor. He briefly attended Los Angeles Film School and had plans to return in the Fall 2011. He never gave up on a college dream. He wanted to realize his dream as a film editor and his parents supported him to pursue what he loved to work on quietly. Waiyaki liked being in LA, and he seemed happy. He touched many lives with his gentle smile and a caring heart which is evidenced by the friends who mourned his tragic demise. Kaki was laid to rest just before sunset on Saturday July 16 at Oakridge Gardens, Tifton, GA. Death is jealousy and cruel because it took away our son and a brother to Anne.
Brothers and Sisters, families, Bishops, Pastors, Ministers & friends, we greatly appreciate your words of comfort and encouragement that you shared with us either through a card, a telephone call, a text message, Email, memorial services, prayers or visit to our home. We will not forget the outpouring of your love and the financial support that our family has received. Every act of kindness that you have shared with us during this season of pain and sorrow is a demonstration of your Christian love for us. It has made a great difference in our lives and continues to give us strength to press on toward the High calling of God.
We have been touched to see all of you who came to stand with us as we paid our last respects to Waiyaki. We are deeply humbled and strengthened. We hope to meet our son again. As Christians we know that this world is not our final home. Therefore, though we grieve, yet through Jesus Christ we know after sorrows, tears and pain, our mourning will turn into joy and peace unspeakable. We can say with Job, "When he has tried me, I shall come forth as gold." (Job 23:10). We want to echo the words of Dean Inge who once said that "Bereavement is the sharpest challenge to our trust in God and if faith can overcome this, there is no mountain which it cannot remove." We know death is the final victory, and are therefore strongly persuaded that our faith in God will triumph and we are guaranteed the final victory. We choose to remain, steadfast, unmovable and always abounding in the work of the Lord for we know that our labor is not in vain in the Lord (1 Cro.15:21-58).
Your continuous love and support has gone beyond what we could have expected or imagined. Without you we would not have been able to stand in the midst of tragedy. Your expression of sympathy and your deeds of kindness will always be remembered. We say Asante sana to the following, with their families, Churches & ministries:
·

        
The Waiyaki Memorial organizing committee of pastors and friends in Georgia, AL, and other States chaired by Mr. & Mrs. Erastus & Naomi Karaya.
·

        
Many thanks to Evangelist Isaac & Agnes Kariuki of Diaspora Messenger for their support and help with communications.
·

        
Dr. G.G. Gitahi and the Kenya American Community Church family, for ministering during the prayers service and fund raiser in Atlanta for Waiyaki, and for availing his church and their facility for the Memorial service on Friday, July 15, 2011.
·

        
Pastor Donald & Pendo Mwawasi for availing his Church for the fund raising event on July 14.
·

        
Abraham Baldwin College, Dean of School of Liberal Arts, Dr. Bobbie Robinson for speaking on behalf of ABAC, the Vice President, Dr. Reddick, Dean of the School of Human Sciences, Dr. Darby Seawell, Dr. Larry and Linda McGruder, faculty and staff for the cards, flowers, financial gifts, words of comfort, and for your visits to our home.
·

        
Kenya Embassy, His Excellency, Ambassador Odembo for your call to our home and the words of encouragement.
·

        
River of Life Church with Pastor Morris & Tina Gaines for availing their church for regrouping, and offering refreshments for our guests.
·

        
Ministers: Pastor Jackson Kingori ministered an uplifting word during the memorial service; Dr. Pastor Barry Culberson who preached a timely message during the funeral service (Isaiah 57); and Bishop Armstrong Chege who made an altar call so that we can pray with Kaki's friends from CA, FL and GA, also for conducting burial services.  Bishop Manasseh Mankuleyo, and Pastor Donald Mwawasi for their remarks and for assisting with the services. Ministers who served as master of ceremony, Dr. Joseph Wamutitu, Pastor Karumba Kiroko, Pastor Gideon & Jerioth Robi, Pastor Richard & Peninah Mungai, Pastor Zephaniah Muturi.
·

        
Praise & Worship with Minister Peter, Sister Zainabu and the team from GA; Special Guitar Music with Mrs. Hurdle/ "Blessed be the Name of the Lord."
·

        
Kenya Christian Fellowship in America (KCFA), Brother Lucas Kimani, NEB, BOT, all our
KCFA local chapters; and members who provided assistance and support from the beginning when we learned about the untimely death of Waiyaki.  We especially appreciate KCFA department of Women/Cathy & Lois – leading continuous prayers via teleconference. God's power, grace, and his protection is evident in all that we do as a result of your intercession. Always PUSH in the name of Jesus.
·

        
Key Coordinators and concerned brothers and sisters in various cities & Kenya for helping and organizing prayers and memorial services for Kaki – including the following:
·

        
MA/Boston & Lowell,

Pastors Kimohu, Kihiko, Wachira, Sister Cathy, Pastor Ben & Uncle Tony of Worcester, Also MA/NH-Muite & members of KCFA
·

        
S. California –with Dr. Joe Gichuhi, Auntie N,

Sister Agnes, and Mr. & Mrs. Wainaina.  
·

        
Waiyaki's friends in Los Angeles, FL & GA – "Since your youth we've been friends-Kaki's mom." We will be praying for you.
·

        
KCFA Youth & Children who knew Waiyaki and who stood with us -you are awesome. Keep the faith.
·

        
GA/Dr. Robert & Lucy Ndonga/home visit and prayers ; Dr. Sikinyi, Shiro & Willie
·

        
GA/KCFA Dept of Women Ministry/prayers, visits, food, hospitality and calls (Auntie Locky, Caroline, Grace, Jerioth, Catherine and al) 
·

        
AL- Dr. Catherine Wambua, Dr. Jane – responders; Bro Morris & Sister Alice, Bro Johnson & Charity
·

        
DC/Rev. James Njoroge & Brethren
·

        
VA/Concerned Sisters and brothers in Christ and KCFA members
·

        
TX – Pastor Jackson/Neema Church; Pastor Shadrack Ruto/Upendo Church, and Pastor Daniel Musau/Living Well Church.
·

        
NC/Raleigh & Charlotte – Dr. Duncan Kihoro & Dr. M. Njaramba, B. Agingu, Dr. Joe and Mary Karogi, Wanjiru M, Pastor Ondachi, Dr. Zachary & Ruth and the KCFA Office.
·

        
S.CA – Bishop Manasseh & Njango Mankuleyo, Dr. Nagi, Sister Rebecca.
·

        
Indiana – Dr. Jesse and Charity Muchai,  Pastors Simon & Gladys Maina, Peter and Anastasia.
·

        
WA – Brother Mike & Loise, Pastor Mbogo, Mr. & Mrs. Mbatai & Sister Margaret & Brethren.
·

        
NY/"Big Sister" Charity, Cyrus & brethren
·

        
NJ/Bro. P. Muindi & concerned brothers and sisters
·

        
MI/Sister Catherine
·

        
TN – Dr. Pastor Barry Culberson & Bro. Chuck,  Brother Mugo & Lucy,  Harris family.
·

        
Brethren from Nashville with T. Oduor & Dr. Achieng/prayers at our home
·

        
PA – Rev. Ayub & Rev. Nyambura Muthama, also Dr. Michael & Wambui
·

        
Denver, C0/Sister Jane
·

        
AZ/Sister Anne & Bro. Kikuyu & brethren
·

        
Other States: DC, Ohio, Fl, Hawaii, NY, NJ, DE, VA & Canada with Sister Jacqueline & family
·

        
Kenya/ Aunt Miriam & Uncle Lemmy with Auntie Njeri for organizing a memorial service for family and friends in Kenya/ Bishop M. Kariuki for offering Church facilities/ for our families and friends/Uncle & Pastor John Ngugi for ministering assisted by Pastor
·

        
S. Karanja. We thank you for your spiritual and material support. We are glad you met Kaki during his visit in 2009. That was so timely.
·

        
Finally: Thanks for services received from  LAPD, Spalding Mortuary of Los Angeles; Albritton-Beaumont, Vercie Floral & City Florists, Tifton, GA – Special thanks to the hair stylist who retouched Kaki's hair – answer to a mom's prayer.
·

        
It is not possible to mention by name every person who has touched our family in these past two weeks.  Please understand if we missed your name – you are precious to us and to the Lord. We love and appreciate every single individual who has had a part in helping us walk through this season of grief.
We have many unanswered questions, and we are working to find out how Waiyaki died. Once we know, we hope to set up a foundation to honor his memory and to help other young people and their families. His death will not be in vain.
We believe that in time and through much prayer the Lord will give us grace, the ability to accept Kaki's death and the power to move forward. We remain faithful to the call of God upon our lives, which we received during our youth. Jehovah is still our Ebenezer. "Then Job arose, tore his robe, and shaved his head, and he fell to the ground and worshipped, and said, naked I came from my mother's womb, and naked shall I return. The Lord gave and the Lord has taken away, blessed be the name of the Lord." (Job 1:19-21). God bless you all for your love and kindness. Joe, Wambui & Anne Njoroge.
Here below are some of the photos,more will be uploaded soon.Come back again!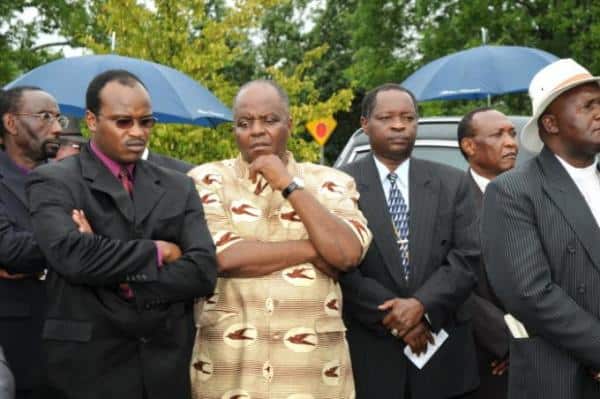 THANK YOU: IN MEMORY OF WAIYAKI JOEL NJOROGE-PHOTOS