A Major Demonstration Planned in Nairobi against Kenyan Politicians
A Major Demonstration Planned in Nairobi against Kenyan Politicians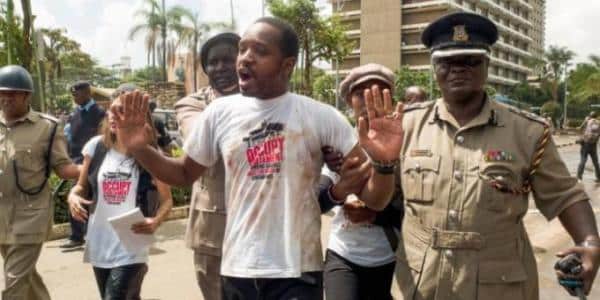 Kenyans on social media have organized a major peaceful demonstration on Thursday next week (June 28) in protest against Kenyan MPs' decision to allow MPs to hop from party to party without losing their seats.
The MPs also selfishly cushioned themselves against an amendment in the Election Act that would have required a university degree as one of the qualifications to run for parliament. This means MPs without a degree will be eligible to run for parliament in the upcoming elections, despite the fact that other arms of government such as the Executive, Judiciary and Public Service require the office holders to have a degree.
The MPs further amended the clause in Elections Act prohibiting the presidential aspirants and their running mates from running for other seats. In the new amendment, presidential aspirants and their running mates will also be eligible to run for other elective seats. They will also qualify for nomination to parliament.
Boniface Mwangi, a photo-journalist and one of the main organizers of the demonstration, has asked all Kenyans to turn out for the demonstration, which he described as "a peaceful protest by Kenyans from all ages." Mwangi Mwangi, founder of Picha Mtaani, further said ""If we don't speak now; our kids will be facing the same problems years to come! Let's join hands & speak up…I'm tired of waiting for others to bring change. For me & my family we shall turn actions into words & do a peaceful protest."
The demonstration will take part at Uhuru Park's Freedom Corner starting at 10 a.m.
Source:Mwakilishi.com
A Major Demonstration Planned in Nairobi against Kenyan Politicians