Uhuru Kenyatta's mother, Ngina, listed among Africa's few billionaires
Uhuru Kenyatta's mother, Ngina, listed among Africa's few billionaires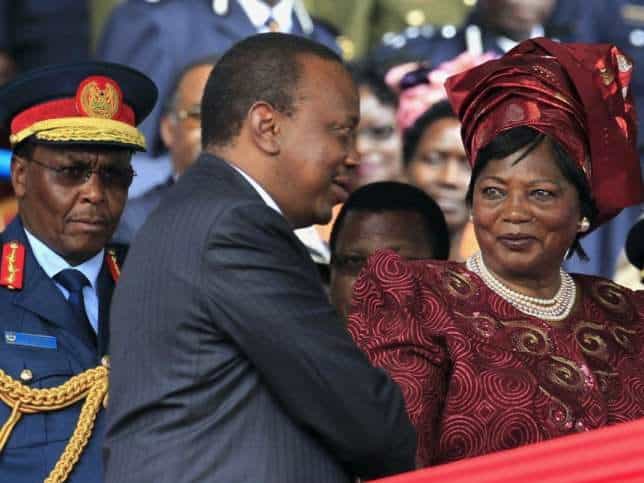 Africa has 55 billionaires, far more than previously thought, Nigeria-based Ventures financial magazine says.
They include three women – the mother of Kenya's president, a daughter of Angola's president and a Nigerian oil tycoon and fashion designer.
The richest man is Nigeria's Aliko Dangote, with a fortune of $20.2bn (£12.5bn), Ventures said.
The list is likely to reignite debate about inequality between rich and poor people in Africa, correspondents say.
In April, the World Bank said the number of people living in extreme poverty in Africa had risen in the past three decades from 205 million to 414 million.
'Conservative estimate'
A report earlier this month by research group Afrobarometer suggested that economic growth in Africa was primarily benefiting a small elite.
. This is the first time the respected Ventures magazine has published a list of rich Africans, reports the BBC's Tomi Oladipo reports from Nigeria's main city Lagos.
The 55 billionaires it has identified are more numerous than the 16 listed by US financial magazine Forbes last year.
It was able to identify dozens more billionaires by using "on-the-ground knowledge" to overcome hurdles that may have "hampered" other researchers, Ventures said.
The magazine estimated the 55 billionaires' combined fortunes at $143.88bn, an average of a $2.6bn per person.
Of the 55, 20 are Nigerian, nine are South African and eight are Egyptian, Ventures said.
The richest woman is Nigeria's Folorunsho Alakija, who made her $7.3bn fortune mainly in the country's oil industry, it added.
She also studied fashion in London and made dresses for Maryam Babangida, the late wife of Nigerian military ruler Ibrahim Babangida, Ventures said.
Isabel Dos Santos, an Angolan investor and the eldest daughter of Angolan President Jose Eduardo dos Santos, together with Ngina Kenyatta, the mother of Kenya's President Uhuru Kenyatta, also made the cut, it added.
Ventures listed Harvard-trained businessman Allan Gray as South Africa's richest man, with a fortune of $8.5bn.
"This media-shy South African moneyman controls two investment companies that collectively manage over $50bn in assets," Ventures said.
Nathan Kirsh, a property tycoon in the tiny kingdom of Swaziland, also made it on the list.
He is worth $3.6bn, and has business interests in London and New York, Ventures said.
Ventures editor-in-chief Oozo Eewala told the BBC's Focus on Africa radio programme that its estimate of 50 billionaires was probably conservative.
"There is this culture of you don't necessarily want to show your wealth, considering the gap between rich and poor," he said.
"If you have a lot of money, there are a lot of people that you have to support so we think people may be a little reluctant to be all splashy about what they have and what their assets are."
Source-standardmedia.co.ke
Uhuru Kenyatta's mother, Ngina, listed among Africa's few billionaires