Goodies begin to flow out of Arab Africa meet-Sh430 billion pledged
Goodies begin to flow out of Arab Africa meet-Sh430 billion pledged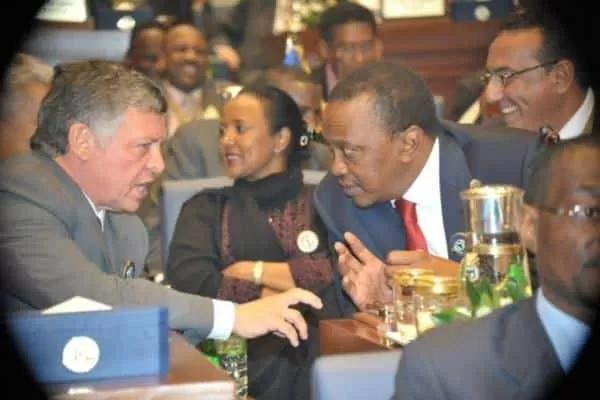 Kuwait City:Kuwait government has pledged Sh430 billion (US$ 1 billion) soft loan to Africa every year for the next five years.
Speaking while presiding over the opening of the Third Africa-Arab Summit in Kuwait City Tuesday, the country's leader and Emir, Sheikh Sabah al-Ahmed Al-Sabah said the funds to be administered through Kuwait Fund for Arab Economic Development will promote economic ties between the Arab world and Africa.
At the same time, Al-Sabah said his government will inject a similar amount in investments on various areas of interest in Africa. Over 70 heads of government, representatives and leaders of various organisations are in Kuwait to attend the Summit that seeks to review steps that will promote stronger ties between Africa and the Arab world.
"I have instructed Kuwait Fund for Arab Economic Development to immediately extend soft loans to Africa amounting to US$1 billion over the next five years," said Al-Sabah.
He said Kuwait valued Africa very much and this can be attested by the many diplomatic missions the country had in the continent.
"Kuwait recognised the importance Africa-Arab relationship long time ago and you can see this by the many diplomatic missions we have opened across Africa," said Al-Sabah.
The Emir said the two regions were faced with critical political, social and economic turmoil that needs concerted effort from all countries for quick and lasting solutions.
"Sustainable development that we desire will only be realised if we together joint hands to exploit our God given resources which are many," said the Emir.
The Kuwait meeting comes three years after the second which was held in Sirte, Libya before Muammar Gaddafi government was toppled. The First Africa-Arab Summit was held in 1977 but the parties have since resolved to hold it every three years.
In his opening remarks Al-Sabah stressed on the need to come up with lasting solution on food security which he said remained a challenge to both regions. He said he fully supports the resolutions arrived at by agriculture ministers from Africa and Arab states in a meeting held recently in Riyadh, Saudi Arabia.
He said the report on food security and which he is privy to, should be adopted as a whole as it captures the needs of the two regions.
During the Summit the leaders will adopt resolutions that have already gone through a team of technical experts and adopted by the foreign ministers in their sitting on Sunday. The resolutions targeting to improve economic cooperation between the two regions include; agriculture and food security, tourism, migration, joint financing of projects, Africa-Arab economic forum among others.
President Uhuru Kenyatta is attending the Summit and is accompanied by Cabinet Secretaries, Amina Mohamed, Phylis Kandie, Felix Kosgei and Najib Balala.
Source-standardmedia