KENYA DIASPORA HOMECOMING CONFERENCE DECEMBER 19th – 21st 2013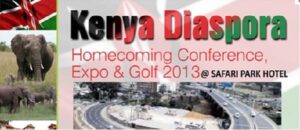 WHAT IS THE CONFERENCE ABOUT?
Every year in the month of December, thousands of Kenyans from the Diaspora come home to spend Christmas vacation with their families and friends. For this reason, the Kenya diaspora initiative and the Government of Kenya through the foreign affairs wishes to; promote, nurture and sustain a mutually beneficial relationship with the visiting Kenyan Diaspora for national growth and development in all aspects. A formal way of doing this is to create a forum, a formal structure, where all targeted stakeholders or through representation, the tribe Diaspora can engage in a
united front, amongst themselves, with government representatives, and private sector, with the aim of establishing an inclusive agenda for Diaspora to participate in national development.
WHY SHOULD CORPORATIONS PARTICIPATE?
Thousands of Kenyans from the Diaspora will be visiting home during their December vacation. The Kenya Diaspora conference will bring most of them together in a structured setting for a two day workshop and exhibition. During this conference, corporations and marketing firms will market their goods and products to the members of the Kenya Diaspora and other participants attending this well publicized event.
Since this is the 2nd Diaspora conference to be held in Nairobi, it is anticipated that Kenya Diaspora members will seek information on how to invest in Kenya, buy property, open bank accounts, get valuable information, or buy into any other investment idea.
WHO ARE THE CONFERENCE ATTENDEES?
This event is open to everyone, but most importantly, the Kenyan living in the Diaspora and the Kenyan Diaspora returnees.
WHY A KENYAN DIASPORA CONFERENCE IN NAIROBI?
Of late, the number of Kenyans returning home to visit or settle down has increased by 30% in the last one year. This is due to the economic hardships in Europe, America, and other parts of the world. About 80% of this sudden influx of members of the Kenya Diaspora visiting or returning home, are concentrated in Nairobi. This is one of the reasons we are hosting these Kenyans from the Diaspora in a conference setting in Nairobi.
This year's conference will also feature a Golf Tournament dubbed "Diaspora Cup" will be held at the Muthaiga Golf Club on the last day of the Conference. Golf Tournament Tickets are available at Kshs 2,500 per ticket.
Conference fee is Kshs 5, 500 per ticket. Persons interested in presenting, sponsoring and securing exhibition tables or participating in Career Fair to contact Wanjiru on +254722 337 845 or Ken on + 254 721 936 619. Or send mail to [email protected] [email protected] / [email protected]
For inquiries & clarifications contact:
Wanjiru +254722 337 845 / Ken + 254 721 936 619