Photos:Help Kenyan woman Stand against Progressive Insurance Company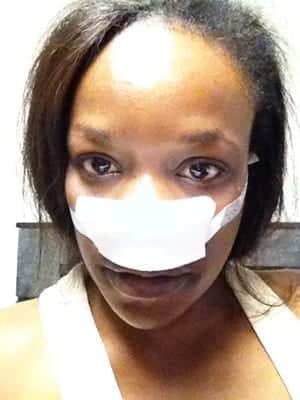 Could you please help me stand, progressive Insurance is doing everything to frustrate me to give up, I need some help to send them a message that they can not continue to intimidate and harass people and get away with it. 
Here's my story and pictures from the nasal Deviated septum. I don't have a history of nosebleeds,  or nasal deviated septum. I was in Kenya a month before my accident and I did not have any Nasal deviated septum, all this started after the accident and I have over 20 people as witnesses from work, church, American families etc I don't have any family in the USA…
I got rear ended in 2009, ended up with numerous problems with my back, neck and a nasal deviation septum that was recently corrected through surgery in August 2013. Any efforts to resolve the issue with Progressive Insurance, (lady's insurance that hit me, has been met by nothing but, retrogression, intimidation, patronizing, and humiliation. Initially, I had a lawyer but realized with time that she was not accurately representing me. Progressive lawyers and doctors were given most of my medical history, but my own doctors were not, yet I had paid $1450 out of my own pocket to get this reviews. In the mediation process, Progressive Insurance lawyers informed me through the mediator, that as the leading gigantic company, they were not moved by an individual like me, and were equipped with a trail of great lawyers who would maul over me, discredit all my doctors, fabricate lies and I would be lucky to get $1,000 out court.
 If I refused to take their last settlement of $12,000 they would file a rule 68 on me, and they did, which means that if I lose in court, I will have to pay all their court expenses. The highest level of retrogressive, way of thinking that lacked basic human common sense! All unpaid medical expenses are $21,000. I could not believe I was going through this in America, so I did some research and stumbled upon this story:
http://datechguyblog.com/2012/08/15/progressives-flo-vs-dead-womans-brother-with-a-blog-no-contest/ which opened my eyes to see the nature of the beast, I was battling with. I did not take the offer, thus was labeled "as an angry woman, out to take down Progressive", a common stereotype associated with black females, "angry, unstable, emotional driven women with no credibility". I was flabbergasted, to say the least, shocked, but not offended, because I knew I was. Through-out history, God chose unlikely characters, who breathed life into dead-end situations. I'm standing on God's word that says, "We aren't the sort of people who timidly draw back and end up being destroyed; we're the sort of people who have faith, so that our legacy as a people is preserved" Hebs10:39.
 I want to use my story to help other people going through similar circumstances, and I'm asking people to stand with me through this process. I don't want to be moved by intimidation, fear and oppression from Progressive Insurance lawyers and doctors. I had come full circle around this mountain for the past 5 years, with excessive nosebleeds until today, I'm trusting God for a miracle on my birthday on 26th December. There has to be a way for Progressive to learn that they cannot continue to do business with malice, un-ethical way and get away with it. 
I found an older lawyer with, unfortunately he has many health problems, but he's been helping me. Court expenses are almost $ 15,000 to prepare for trial, he's been trying to settle the case with Progressive lawyers, but they are not returning any of his calls. I need people to help me stand, and let  
 Progressive insurance understand they cannot continue to treat people like this. My current contract position was cut down, three weeks ago and I earn less than 400 dollars untaxed a week, which I'm using to pay some of the medical bills and dealing with the nosebleeds daily.  I'm job searching, I have a Masters in Communications and a degree in Journalism and have never been on welfare. Please help me stand, and say it's not okay for insurance companies to harass, manipulate, and get protected by the law, that is supposed to fight for common rights of ordinary people. I listen to Mandisa's song every morning that reminds me, I'm an overcomer ": http://youtu.be/z29olPjFbqg
. P
art of a generation of "faith, risk- takers" who are willing to take a stand, build an unlikely legacy through their life defining moments. I can't give up, I need to continue standing to see God's faithfulness through this situation. I know my experience could help many other people in similar situations, not to lose their values, despite of what they are going through. I created a facebook page called "faith takes risks" as an avenue to encourage people to stand as the go through hard times. 
By Shamilla Amulega