Limo or aircraft? Couple brings ultimate VIP experience to weddings and parties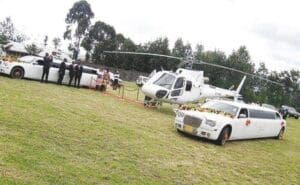 Kenya: For Mr Lemmy Njenga, the Internet has been a formidable asset in terms of gaining entrepreneurial skills and knowledge.    The trained aeronautical engineer believed that he could use what he picked up for free online to develop bankable ideas. The result of this was Moran Pride Limousines, a logistics company that caters to one's luxury transport needs and provides concierge services. "I got the idea for the business from reading [Richard Kiyosaki's] Rich Dad, Poor Dad. The book spurred me to think of innovative ideas that I can use to build my own business," says Mr Njenga, who is in his early 30s. He had always wanted to be a pilot growing up and was fascinated by the idea of incorporating something he had long admired into a business venture.
"I figured that I could provide a service that basically offers luxury air transport, but I later changed the concept to include ground transport," he says. That was two years ago. Today, Njenga and his wife and co-founder of Moran Pride Limousines, Mrs Hilda Monchari-Njenga, are getting a handle on entrepreneurship in a field few have trod before them. "We basically help clients who need luxury transport for weddings, birthday parties, proms or even a night out at the club to get the vehicle of their choice," says Njenga. Kenya has witnessed a growing middle class over the past two decades that has bulging discretionary expenditure, making elite transport services a viable business. In the past, luxury transport like limousines and helicopters were the preserve of the very wealthy or those in the echelons of political power.
Marriage proposal Today, however, stretch limos and luxury SUVs like Range Rovers are a common sight in bridal entourages on weekend mornings. Some have even taken things a notch higher by hiring a helicopter not only for weddings but to make marriage proposals or jazz up ordinary outings. Moran Pride also provides airport pick-ups and drops, and caters to corporates' transport needs by ferrying employees to seminars and retreats. "Our clients consist of people who desire to travel in style or mark important occasions in elite vehicles, and what we have seen in the two years that we have been in operation is that there is a lot of demand for high-end transport," says Njenga. To generate a sustainable client list, Njenga has partnered with several players in the hotel and hospitality industry and in event planning to create a network that will help his business grow.
A stretch Chrysler can be hired at $313 (Sh26,918) per hour during the day, while a stretch Range Rover goes for $438 (Sh37,668) an hour. Hiring a Eurocopter helicopter for an hour will set you back $2,200 (Sh189,000). The pricing is, however, not rigid as clients often have special requests or detours that are factored in, with the prices adjusted accordingly. Mr Jared Omondi, the CEO of Mee Kreations, a company that offers event and wedding planning services, concurs that luxury travel is in high demand. Moran Pride and Mee Kreations often partner to develop packages for their clients, splitting the profits based on a revenue-sharing agreement.  "We have been in the industry for several years and the emerging middle class view weddings as a big deal and are going all out to make them memorable," he said. Mr Omondi says his company creates a tailor-made package for each client that caters to their preferences and budget.
-standardmedia.co.ke