Sonko ordered to take DNA test- Children of estranged wife
Sonko ordered to take DNA test- Children of estranged wife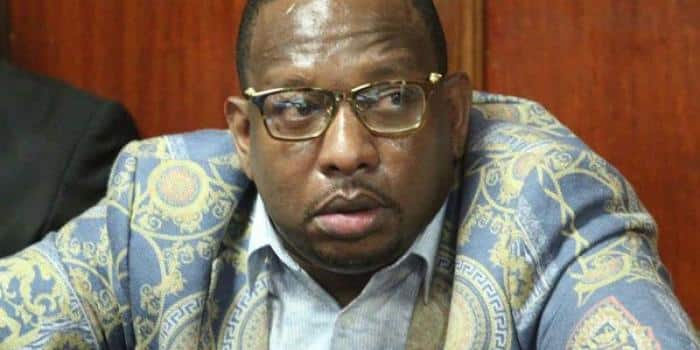 NAIROBI Senator Mike Sonko has been directed by a Kwale court to continue paying school fees for two children his estranged wife says are his until a DNA test is carried out.
Sonko has said he knows the first child is his, but has denied fathering the second child, because he was born after he had separated with the child's mother. He however says that he has been providing for both children, and will continue to do so.
The court also ordered Sonko to meet the cost of the DNA test on the second child.
Sonko's estranged wife wants him to pay Sh140,000 monthly as maintenance for the two children.
Yesterday Sonko and his estranged  wife Josephine appeared before Kwale resident magistrate Christine Njagi, who issued the order.
Magistrate Njagi warned the media against exposing the minors involved in the case.
Josephine was represented by lawyer Leonard Chimaka and Sonko by Lydia Kwamboka.
Chimaka asked the court to compel Sonko to pay the  two minors' school fees until the DNA issue is established, to avoid inconvenience since the schools are almost re-opening after the August holidays.
She urged the court to ensure the Senator provides food for the children, claiming that he had not been consistent in doing so.
Sonko's lawyer denied the allegation, insisting that the politician has been providing for the children.
She said the Senator had authorised the management of Nakumatt Nyali to allow food to be collected at any time at his expense.
"My client has been providing food, even sometimes having food delivered to her home because she refused to pick it up from Nakumatt Nyali as asked," said Kwamboka.
Lawyer Chimaka for Josephine urged the court to restrain the media from covering the case, which involves minors, arguing that there have been cases of some media houses exposing minors' names.
But Kwamboka opposed the application, saying the case involves a public figure and the media should not be restrained from covering it, although they should not mention the minors.
The magistrate ordered Sonko to pay the children's fees directly into the account of the Methodist Academy in Kwale.
The case will be mentioned on 15 October this year, once the DNA test is done at Ampath Health Centre, Mombasa.
AGGRIEVED: Nairobi Senator Mike Sonko?s estranged wife Josephine Thuku in court in Kwale yesterday accompanied by a relative.
Sonko ordered to take DNA test- Children of estranged wife