Photos:Uhuru holds talks with US Secretary Kerry on direct flights to Kenya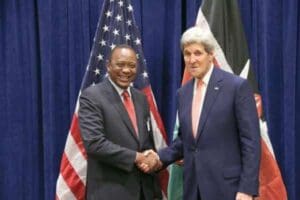 President Uhuru Kenyatta has asked the United States government to hasten the process leading to clearance of direct flights between Kenya and the United States.
Kenyatta said direct flights between the two countries was necessary for strengthening bilateral relations.
"Direct flights are an integral cog in strengthening our relations and it will make it easier for business to flow both ways as quick movement is important to investors," Kenyatta said.
Kenyatta said this when he held bilateral talks with the United States government, which was represented by Secretary of State John Kerry and senior officials of the State Department, on Thursday evening.
During the meeting, Kerry requested Kenya to continue supporting West African countries affected by the Ebola epidemic.
"We want to request Kenya to participate in every way it can, Ebola could affect as many as a million people by January if it is not contained or managed well," Kerry said.
Kerry congratulated Kenya and urge the Government to continue its contribution in a coordinated global campaign to help Liberia, Sierra Leone and Guinea to tackle the crisis.
Kenyatta said Kenya has already offered a $1 million (Ksh 87 million) grant to the affected countries and stands ready to do more.
The President said the Government was ready to allow Kenya Airways to resume flights to West Africa, which were suspended
"Kenya was willing to allow Kenya Airways fly but WHO warnings meant if we continued to do so, we could severely harm our own standing as a regional transport hub," said Kenyatta.
The US government also expressed disappointment with the slow progress in the South Sudan peace process.
Kerry urged Kenya and other member countries of the Intergovernmental Agency for Development (IGAD) involved in the mediation process to place more pressure to push for a quick resolution of the conflict.
"IGAD should summon all its powers of persuasion or otherwise to pull the leaders along the path of peace," Kerry said.
Kenyatta said he held a mini-summit during the 69th United Nations General Assembly with Presidents Yoweri Museveni (Uganda), Salva Kiir (South Sudan) and Prime Minister Desalegn Hailemariam of Ethiopia to discuss the situation.
"We agreed to meet in the next few weeks, we will set out whatever number of days required, to give these talks one more big push. This is something IGAD is concerned about," Kenyatta said.
Kenyatta also welcomed a pledge by the US government to work more closely with Kenya on Somalia issues.
"The US government will continue to cooperate with Kenya, especially under President Obama's new governance initiative," said Kerry.
Senior US officials are scheduled to visit Nairobi in October to meet Kenyatta to discuss Somalia.
"I welcome the mission and keen to get assistance especially in managing porous border with Somalia," Kenyatta said.
Kenyatta later held a lengthy meeting with the United Nations Secretary General Ban Ki-moon.
They discussed the development programmes and transformational agenda being implemented by the Government. They also discussed South Sudan and Somalia.
The UN Secretary General expressed his concern about Sudan and urged President Kenyatta to press concerned parties to commit more to the peaceful process.
Ki-Moon said the UN will support Kenya in counter-terrorism capacity building and stands ready to make technical expertise available to Kenya.