St Andrew's Turi Absurd School Fees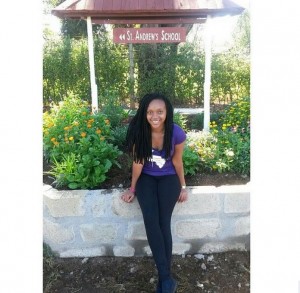 After her stellar performance in her IGCSE exams, where she got straight A's in everything, Ciku Muiruri's daughter Erica Gachoka has enrolled at St Andrew's Turi for her college.
The institution is one of the best international schools in Kenya, and one of the most expensive for that matter.
Ciku may no longer be on radio, but that does not mean she has no mulla. Remember just last month, she put up her Prado on sale so it could make space for her new Range Rover Sport. While we cannot tell her source of wealth, we know she comes from a relatively wealthy family,' The Gachokas', and has ties to the President.
How much will she be forking out for her daughter to go through the St Andrews system..
If she decides boarding is better, KSh 718,000 per term will do. If Erica will be going home everyday, she'll just part with just KSh 359,000 per term.
The boarding money is enough to educate a parallel student at any public university and most of the major private ones in the country for the entire 4 years. It is also enough to take 6 government sponsored students through their entire university education.
But no one said education is cheap. If you have the money, go for the best.
Here's St Andrews Turi fee structure.
Preparatory School
Years
Fees (per term, including tuition)
Reception (Day only)
Day – KSh 249,000
Years 1 to 4
Day – KSh 249,000
Boarding – KSh 498,000
Years 5 and 6
Day – KSh 267,000
Boarding – KSh 534,000
Years 7 and 8
Day – KSh 288,000
Boarding – KSh 576,000
Senior School
Years
Fees (per term, including tuition)
Year 9
Day – KSh 306,000
Boarding – KSh 612,000
Years 10 and 11
Day – KSh 331,500
Boarding – KSh 663,000
College
Years
Fees (per term, including tuition)
Years 12 and 13
Day – KSh 359,000
Boarding – KSh 718,000
-nairobiwire.com