Wow Photos:Kenyan wedding with Manchester United Theme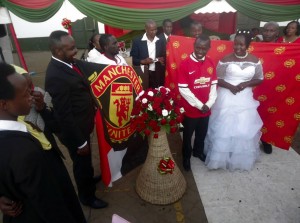 On Monday, Nairobi Wire ran an exclusive on this guy whose wedding was Manchester United themed. The story attracted lots of attention not only from other blogs but also from the mainstream media.
The man's name is Zac and going through his Facebook account reveals a die hard red devil.
His wedding cake was branded with Chevrolet logo (Manchester United shirt sponsor), but that's just half the story.
The wedding itself was a red/white affair. The  bride's car was also branded with the club's logo.
He says his wife is also a supporter, and therefore the whole idea of a red wedding was easily agreed. He posted this statement on Facebook yesterday.
Thanks Dear God for Journey Mercies back To Nairobi

However this should sink to minds of some people. My Wife & I are happily married. She supports Manchester United & approved the Wedding cake & theme.The Jersey was a gift from my True Manchester United Faithfuls.Shes happy to associate herself with Manchester United.wen we met she knew I support United & supported our Red course together

Haters & romour mongers beat that

My Wife is my business & happiness

Our happiness is our bond

Our bond is to support each

Our support is to live for each other

We are happy.we are Manchester united.We are always a compliment to each other

Av got 3 calls this morning from 3 different media houses

NO THANK YOU AM HAVING TIME WITH MY LOVELY HAPPY WIFE
Going through his photos, it appears he is part of a club of ardent Man U supporters who meet occasionally.
Here are more photos from his wedding.
-nairobiwire.com