Video:Joyce Akinyi charged with assault in Nairobi court
Video:Joyce Akinyi charged with assault in Nairobi court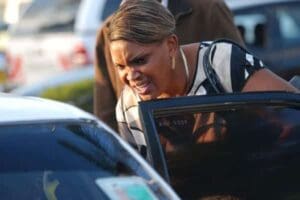 Controversial Nairobi businesswoman Joyce Akinyi is back in the courts on a criminal charge that attracts a life sentence upon conviction.
Ms Akinyi was on Tuesday charged at the Milimani Law Courts with assaulting and wounding a former business associate.
Ms Akinyi was involved in multiple public spats with her former husband, deported Nigerian businessman Antony Chinedu, who was suspected of drug trafficking.
The couple fought protracted legal and physical battles over the control of their properties in the city, estimated to be worth billions of shillings. She was also the subject of a sensational love triangle pitting former Budalangi MP Raphael Wanjala against Mr Chinedu.
On Tuesday, she denied one count of "causing grievous harm" to Ms Schola Imbiti Namunyu, who has also been named in drug trafficking circles and charged with the offence several times before courts in Nairobi.
DECLINE TO DIVULGE DETAILS
A prosecutor declined to divulge how the charge against Ms Akinyi arose and blocked journalists from accessing a police report accompanying the case file presented to the court.
Ms Akinyi has been ordered to deposit a cash bail of Sh100,000 to secure her freedom.
The prosecution said the incident took place on November 6 at City Hall on City Hall Way in Nairobi.
A hearing on the case has been set for January 13, 2015.
Meanwhile, Ms Akinyi is expected to appear for a mention of her case before the trial court on December 9.
-nation.co.ke
ARCHIVE VIDEO: Chinedu And Akinyi Fight Over Deep West Restaurant.