Dedan Kimathi last letter before hanging
Dedan Kimathi last letter before hanging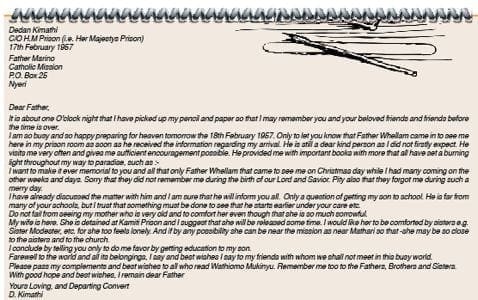 Accounts on the life and exploits of freedom fighter Dedan Kimathi may paint him as a heartless, perhaps a Godless soul. However, the story of his final moments before he was hanged by the colonialists at the Kamiti Prison indicate he was a devout Catholic.
The evidence is contained in a hand written letter scribbled with a pencil and dispatched to his village priest moments before his rendezvous with the hangman. The moving, sorrowful letter was written on February 18, 1957, a day before the colonia government executed him.
The freedom fighter who was born in Karuna-ini village in Tetu, Nyeri county, wrote to village priest, Father Marino. In the letter, he pleads with the priest to ensure that his son gets education in his absence from this world.
He writes: "It's about one O'clock at night that I've picked up my pencil and paper so that I may remember you and your beloved friends before the time is over. I'm so busy and so happy preparing for heaven tomorrow the 18th February 1957."
In the letter he talks of his desire to have done everything possible to see to it that his son is enrolled in school and to also take care of his mum as death awaits him.
"Only a question of getting my son to school. He is far from many of your schools, but I trust that something must be done to see that he starts under you care," he says in the letter, as he remembers his mother and his wife. "Do not fail from seeing my mother who is very old and to comfort her even though that she is so much sorrowful."
At the time the letter was written, the wife of the freedom fighter said to have been deeply religious and carried a Bible regularly, was also behind bars at Kamiti Maximum Prison, and prayed that she be set free and placed under the close watch of the church.
"I would like her to be comforted by sisters for she too feels lonely. And if by any possibility she can be near the mission as near Mathari so that she may be so close to the sisters and the church," he pleads, as he bade farewell to the world.
Dedan Kimathi last letter before hanging