Hilarious Story: Uhuru Visited Githunguri Incognito,Gave a Drunkard a Chance to Make a Wish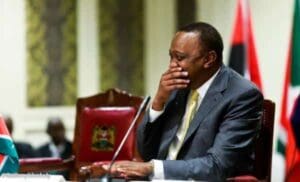 I really do not know whether this is hilarious or unfortunate. President Uhuru Kenyatta is known to travel quite often without his security.
Apparently, he was in Githunguri on Sunday for the 'maombolezi' of a prominent businessman. He only had one vehicle and very slim security. At Gathaje shopping centre, about 2.5 kilometres from Githunguri, he met this drunkard who was transfixed for a moment.
The Head of State gave him a chance to make a wish. "Ukuenda nguikire atia? (What can I do for you?)." he asked.
"Ngurira kanuthu.. (buy me a half)" the guy answered referring to half a bottle of cheap spirit. Apparently it goes for only 60 bob there.
This is how one Wahome Thuku narrated the story on Facebook.
AN INTERESTING TALE SENT TO MY INBOX. I HAVE NOT EDITED ANYTHING IN IT AND CANT CONFIRM ITS TRUTH:
"am from githunguri constituency and this is the story that is trending here.The sources are many but one common thing bout all those sources is that they are all drunkards.

They are saying that on sunday evening Kamwana happened to come to githunguri town with no convoy,he only had one vehicle with him.He had come for maombolezi of a prominent businessman who i personally didntknow who is believed to own one of the supermarkets in githunguri town.Kamwana made a stop over at a small shopping center known as gathanje which is approximately 2.5km from githunguri.

The first guy he met was a drunkard who couldnt believe his eyes that he is seeing kamwana face to face.Kamwana asked him "Ukuenda nguikire atia?" the guy replied "Ngurira kanuthu".kanuthu here means a half bottle of spirit,since not many can afford to buy a full bottle of spirit at a price of about 120bob ,they buy kanuthu at 60bob..Now the walevi sacco is very angry at one of them because of demanding such petty thing instead of asking for a job.

You can imagine how Kanwana felt about that.Am yet to confirm if the story is true or not because i cant recall where the media said kamwana was on sundai..Gikuyu ni giathira ni johi"

-nairobiwire.com