Raila thanks Uhuru for support during Fidel's funeral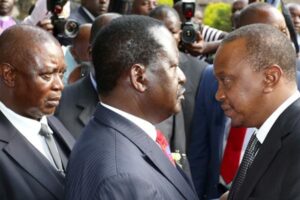 Kenya: Former Prime Minister Raila Odinga and his wife Ida have expressed their gratitude to President Uhuru Kenyatta for standing by them during the sudden death of their first born son, the late Fidel Castro Odinga.
Raila appreciated the President and his Deputy William Ruto for condoling with them in his Karen home and also for joining the family at All Saints Cathedral for the funeral mass.
Speaking during a family prayer session at the graveside of their late son Fidel Odinga at Kang'o Kajaramogi in Bondo, Odinga also acknowledged the government for all the support it gave both socially and economically
"I thank the President for giving out choppers for transporting the body of the late Fidel and also deploying government security for protection during the burial of our son," said Odinga.
Ida Odinga on the other hand has apologized on behalf of the family for any misconduct and utterances by mourners during the period of burial for their son Fidel.
She said that mourners have different ways of mourning hence whatever bad things they may have said should be forgiven.
"There could have been misconduct and inappropriate behaviour by mourners but I want to say those are not the views of the family and we do not share in the view of those utterances. Their ways and utterances are not ours. When people come together to mourn they do it in different ways and some of their ways might not be our ways and their utterances cannot be attributed to us," said Ida.
During the burial service on Saturday in Bondo, a section of mourners heckled and also threw plastic bottles at some speakers during speeches.
The late Fidel Castro Odinga was laid to rest at his grandfather's home, Kang'o Kajaramogi, in Nyamira village, Bondo after a burial service that was conducted at Jaramogi Oginga Odinga University of Science and Technology (JOOUST).
-standardmedia.co.ke