AMAZING:LARRY MADOWO SAYS HE HAS NOT FOUND A WOMAN WHO DESERVES HIM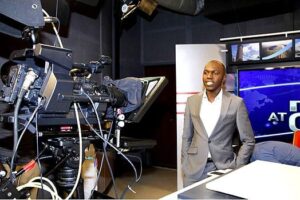 High-flying NTV news anchor Larry Madowo has finally revealed why he is not dating: he has not found a woman who deserves him.
Larry, 28, dropped the bombshell Thursday night when he appeared at the Jeff Koinange Live show on KTN. Here's how the interview went:
Jeff: Do you have a girlfriend?
Larry: I don't have an official girlfriend.
Jeff (stunned): Is there an unofficial girlfriend somewhere?
Larry: I don't have an unofficial girlfriend either for avoidance of doubts.
Jeff: Reason being?
Larry: I haven't found somebody who deserves me and who can keep up with me coz I'm a handful….we can do auditions. The Bachelor at KICC on Saturday.
Jeff: You're in no hurry? Is that what you're saying?
Larry: Yes…in Kenya there is almost this cycle you need to go through: you go to school, you finish college you get married in that order. But life doesn't always work like that. What if I want to go back to priesthood?
Jeff: But you do like girls?
Larry: I do like girls.
Larry also dismissed claims that he was dating fellow anchor at NTV Victoria Rubadiri.
In the wide-ranging interview, the two hosts bet Sh100,000 to be donated to charity if either of them is selected to interview US president Barack Obama when he visits the country in July.
Larry also spoke about growing up in a Siaya village, losing both parents at a tender age, how he almost became a priest, selling tea at Gikomba and joining and then dropping out of Daystar University due to lack of fees.
-nairobinews.co.ke