Killed Garissa girl's mum says terrorists called her, heard them shoot daughter 3 times.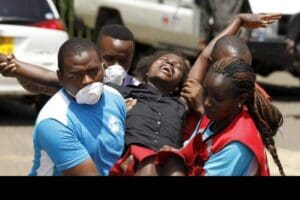 A Kitale mother heard as her daughter was shot by terrorists at the Garissa University College on Thursday.
The body of second-year student Elizabeth Musinai, 21, is among those identified at Chiromo mortuary on arrival from Garissa.
Her mother, Rose Nafula, said she was called by terrorists using Musinai's phone, which was initially picked by her brother Ken.
Nafula told the press yesterday the terrorists demanded President Uhuru Kenyatta order the removal of KDF from Somalia.
They said they should be given answers in two minutes or else they will kill Elizabeth.
"They said because you have failed to call in two minutes, listen how we are killing your daughter," Nafula said.
She said she heard three gunshots as her daughter was killed.
Musinai's father Carscon said they have identified her body among the victims.
Nafula said in the beginning, she wanted Musinai to repeat form four after her KCSE exam.
However, she insisted on joining the university after receiving an admission letter for government sponsorship.
"The family had hope in our daughter because she was hardworking, loving and disciplined," Nafula said.
Musinai had been studying linguistics and was expected to graduate next year.
Her uncle Gilbert Sitati said burial arrangements have started.
-the-star.co.ke