LEADERS TURN REECE SQUAD OFFICER'S FUNERAL INTO 'POLITICAL RALLY'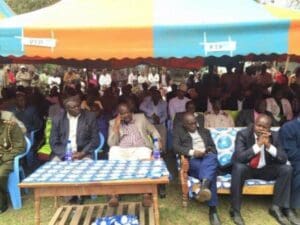 Slain General Service Unit (GSU) officer Bernard Tonui who met his death while on duty at Garrissa University, lived an impoverished life despite dedicating his adult life to protecting the lives of Kenyans.
According to activist Boniface Mwangi, Tonui who was until his untimely death attached to the elite Recce squad, lived in a mud house and took home a monthly income of about Sh 36,000. He had served in the Police force for almost two decades.
Mwangi who attended the burial of Tonui, a father of four, at his home in Bomet County on Saturday, also hit out at the area leaders who attended the burial for "arriving in choppers and only concentrating in politicking".
The activist shared this information on his official Facebook page.
MUD-WALLED HOUSE
"Travelled to Cheleget village in Bomet County to bury Kenya's hero Recce squad Bernard Tonui who was killed while rescuing Garissa University students.
The men who flew to Garissa to spectate while the Recce squad travelled by road did not attend the funeral.
"Three choppers landed to witness Tonui's funeral. The politicians arrived late, got the best seats, politicked for long and they had to be begged to stop so the burial could happen before 6pm.
"The area has no electricity and water, and Tonui meager salary was only enough to build a mud walled house for his wife Nelly and the kids. Police officers deserve better," Mwangi wrote on Facebook.
The Garissa University attack claimed the lives of 148 people with several others injured.
-nairobinews.co.ke