Smoothen our investment route back home, urge Kenyans abroad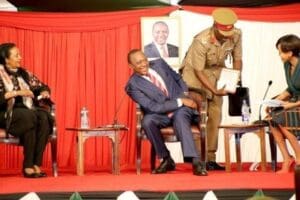 Kenyans living in the diaspora have asked the government to create a more conducive investment environment to enable them increase their capital outlays back home.
During the inaugural diaspora investment conference held yesterday in Nairobi, the group asked for more accurate and transparent data to help them make informed investment decisions.
"The government needs to play the role of creating an enabling investment atmosphere for us," said a Kenyan diaspora representative from Japan.
The two-day conference themed Development and Innovation: Opportunities for Diaspora is expected to come up with an investment framework to be applied in a bid to encourage more Kenyans to invest at home.
President Uhuru Kenyatta assured Kenyans living abroad that the government will commit in policy and strategy to create an enabling environment that will enable them to invest here.
"In this process of integration, the main thrust must be to unlock and maximise the hitherto untapped promise of the diaspora and use this energy to carry our country to greater heights, while at the same time meeting the needs and expectations of Kenyans abroad at every point in time," said Mr Kenyatta.
The President cited the launch of the African Institute for Remittances in Nairobi in November last year as one of the measures taken to encourage diaspora engagement in the country's economic growth.
Family Bank Group, which was one of the main sponsors of the event, urged the government to put more focus on promoting diaspora remittances than attracting foreign direct investments.
"The current number of Kenyans living abroad has grown bigger than some of our own counties here at home. Remittances from the diaspora were more than $1.43 billion in 2014 which translates to about 2.4 per cent of GDP.
"The 25 per cent of this invested exceed what we get from foreign directly investment and it is time the country chose to focus on promoting more diaspora investment," noted the bank's chief executive, Mr Peter Munyiri. Other key sponsors are KCB and Co-operative Bank.
There are about three million Kenyans in the diaspora, with the majority residing in the USA, Canada, UK, UAE and other African countries.
Although the Central Bank of Kenya and the Kenya National Bureau of Statistics estimate that diaspora remittances for 2014 were close to $1.5 billion, National Treasury Cabinet Secretary Henry Rotich said unreported remittances were also close to $800 million, bringing the total to $2 billion.
Foreign Affairs Cabinet Secretary Amina Mohamed said her ministry was developing incentives and tailor-made investment packages to encourage Kenyans abroad to direct their remittances towards productive ventures both at the national and county levels.