Sudan President Omar al-Bashir re-elected with 94.5pc of vote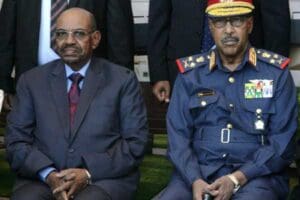 Sudanese President Omar al-Bashir was on Monday re-elected with 94.5 per cent of the vote in polls he had been widely expected to win, the National Electoral Commission said.
"The number of votes obtained by candidate Omar Hassan Ahmed al-Bashir of the National Congress Party was 5,252,478, or 94.5 per cent" of ballots cast, NEC chief Mokhtar al-Asam said at a news conference in Khartoum.
The announcement was met by cries of "God is greatest!" by some members of the audience in the hall where the results were announced.
Bashir — wanted by the International Criminal Court for war crimes — had faced just 13 little-known challengers for the presidency, and the mainstream opposition boycotted the vote.
His closest competitor, Fadl el-Sayed Shuiab of the small Federal Truth Party, won "79,665 votes, or 1.43 percent," Asam said.
Polling stations had been quiet during the vote, despite a nationwide one-day extension, and the African Union's Election Observer Mission said there had been a "generally low turnout of voters throughout".
Asam said turnout was 46.4 percent across the four days of polling, in which representatives of the national and state parliaments were also chosen.
The controversial vote has already faced international criticism, with the United States, Britain and Norway slamming Sudan last week for its "failure to create a free, fair and conducive elections environment".
Bashir seized power in a 1989 Islamist-backed coup, and won re-election in a 2010 election marred by an opposition boycott and criticism that the vote did not meet international standards.
-nation.co.ke